To open long positions on GBP/USD, you need:
The successful meeting between Barnier and Barkley led to another rise in the pound by more than 300 points, as the probability of a Brexit deal, according to the scenario proposed last week by British Prime Minister Boris Johnson, has increased significantly. At the moment, it is best to return to long positions after the correction to the support levels of 1.2570 and 1.2527. A break of the resistance of 1.2673 will provide the pound with new buyers who are able to drive the pair to new highs in the areas of 1.2705 and 1.2741.
To open short positions on GBP/USD, you need:
I do not recommend selling the pound today.
Indicator signals:
Moving Averages
Trading is above 30 and 50 daily averages, which indicates the bullish nature of the market.
Bollinger Bands
There are no signals due to high volatility.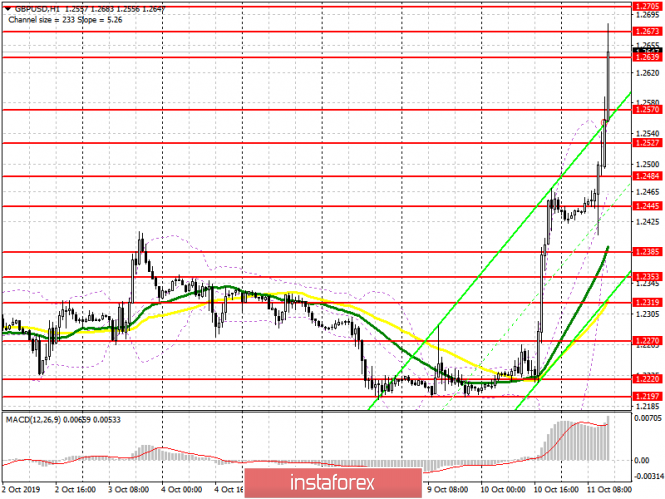 Description of indicators
MA (moving average) 50 days – yellow
MA (moving average) 30 days – green
MACD: fast EMA 12, slow EMA 26, SMA 9
Bollinger Bands 20
The material has been provided by InstaForex Company -
www.instaforex.com

Fatal error: Uncaught Exception: 12: REST API is deprecated for versions v2.1 and higher (12) thrown in /var/www/forex-winner.com/htdocs/wp-content/plugins/seo-facebook-comments/facebook/base_facebook.php on line 1039