To open long positions on GBP/USD, you need:
Buyers retreated from the market after the publication of another poll related to the vote on the future of the British Prime Minister, which, apparently, will be Boris Johnson. Buyers have shown themselves so far in the support area of 1.2439, from which an upward correction can begin. If the pressure on the pound remains, and the level of 1.2439 is broken, it is best to consider new long positions on the rebound from the lows of 1.2405 and 1.2374.
To open short positions on GBP/USD, you need:
Bears coped with the morning task and broke below the support of 1.2501, which led to the fall of the pound. I paid attention to it in the morning review. At the moment, the sellers' goal is to break through the support of 1.2439, which will maintain the downward momentum and lead to the update of the lows in the area of 1.2405 and 1.2374, where I recommend taking the profits. In the scenario of growth of the pair after the speech of the head of the Fed, short positions can be returned to a false breakout from the resistance of 1.2471 or a rebound from the maximum of 1.2501.
Indicator signals:
Moving Averages
Trading is below 30 and 50 moving averages, indicating a further decline in the pound.
Bollinger Bands
If the pound rises in the second half of the day, the average border of the indicator in the area of 1.2501 will act as a resistance.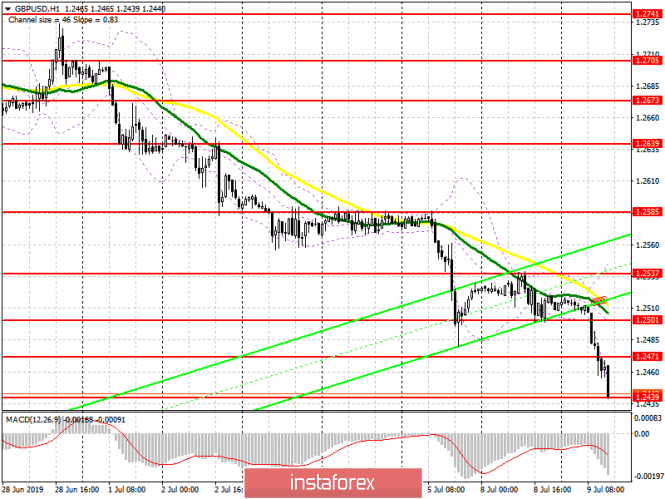 Description of indicators
MA (moving average) 50 days – yellow
MA (moving average) 30 days – green
MACD: fast EMA 12, slow EMA 26, SMA 9
Bollinger Bands 20
The material has been provided by InstaForex Company -
www.instaforex.com

Fatal error: Uncaught Exception: 12: REST API is deprecated for versions v2.1 and higher (12) thrown in /var/www/forex-winner.com/htdocs/wp-content/plugins/seo-facebook-comments/facebook/base_facebook.php on line 1039