4-hour timeframe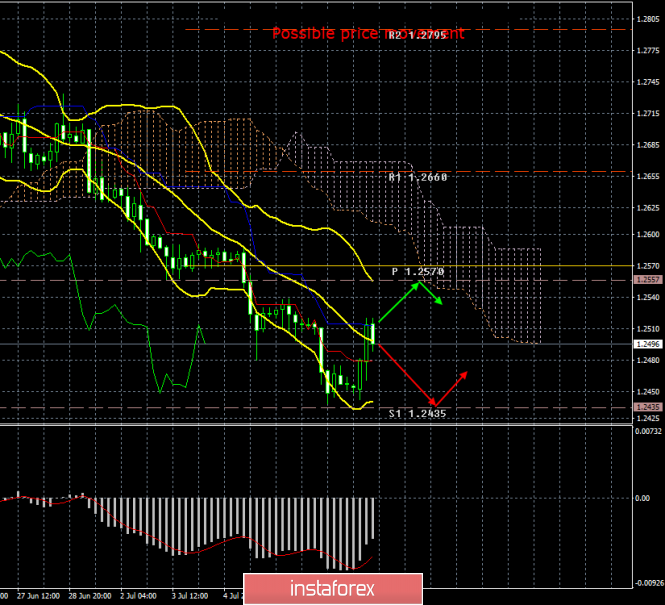 The amplitude of the last 5 days (high-low): 43p - 25p - 107p - 40p - 81p.
Average amplitude for the last 5 days: 59p (56p).
Today, the British pound also adjusted to the critical Kijun-sen line and for the same reasons as the euro. Today, data on the UK's GDP in May was released (+ 0.3% m/m) and industrial production in May (+0.9% y/y and + 1.4% m/m), this in no way affected the movement of the pound/dollar currency pair. From the morning, traders began to trim short positions due to the concerns of Jerome Powell's dovish rhetoric in Congress. However, it can be said that the fears were not justified. Even if Powell's rhetoric can be regarded as a concrete signal to the reduction of the key rate in July or September, by and large, the situation has not changed either for the US dollar or the pound sterling. The US dollar may begin a protracted decline when the rate will indeed be reduced and that is not a fact, since the political crisis and uncertainty around Brexit in the UK are not resolved. Accordingly, the pound is still in a losing position compared to the US currency. At the moment, the pound/dollar pair has fulfilled the Kijun-sen line just like the euro/dollar pair. The price rebound from this line may trigger a resumption of a downward trend, which, from our point of view, will be reasonable. Another speech from Powell at the Congress will take place tomorrow, this time in front of the banking committee, but it's unlikely there will be fundamentally new information. However, we still do not recommend to lose sight of this event.
Trading recommendations:
The pound/dollar currency pair started an upward correction. Thus, traders are advised to wait for its completion (a rebound from the Kijun-sen line) and re-sell the pound sterling in order to support the level of 1.2435.
It will be possible to buy the British currency not earlier than consolidating the pair above the critical line. In this case, the bulls will have a small chance to form an upward trend with the first target of 1.2557.
In addition to the technical picture should also take into account the fundamental data and the time of their release.
Explanation of the illustration:
Ichimoku indicator:
Tenkan-sen - the red line.
Kijun-sen - the blue line.
Senkou Span A - light brown dotted line.
Senkou Span B - light purple dotted line.
Chikou Span - green line.
Bollinger Bands indicator:
3 yellow lines.
MACD Indicator:
Red line and histogram with white bars in the indicator window.
The material has been provided by InstaForex Company -
www.instaforex.com

Fatal error: Uncaught Exception: 12: REST API is deprecated for versions v2.1 and higher (12) thrown in /var/www/forex-winner.com/htdocs/wp-content/plugins/seo-facebook-comments/facebook/base_facebook.php on line 1039