AUD/USD has been quite impulsive amid the recent bearish pressure, pushing the price below 0.6750 with strong momentum. The price is currently being rejected quite impulsively. Despite the lack of macroeconomic reports from Australia and the US earlier today, sudden bearish momentum ahead of US NFP indicates a surge of volatility in the market.
Amid the holiday-thinned market, AUD has been quite silent with no economic reports from Australia. USD has been dominating the pair since the price bounced off the 0.74 area with a bearish daily close. Today US ADP Non-Farm Employment Change report was published with an increase to 271k from the previous figure of 157k which was expected to be at 179k and Unemployment Claims rose to 231k in the final week of 2018 from the previous figure of 221k which was expected to be at 220k. Moreover, today ISM Manufacturing PMI is expected to decrease to 57.7 from the previous figure of 59.3 and ISM Manufacturing Prices are expected to drop to 57.9 from the previous figure of 60.7 as well. Additionally, tomorrow Average Hourly Earnings are expected to increase to 0.3% from the previous value of 0.2%, Non-Farm Employment Change is expected to increase to 178k from the previous figure of 155k, and Unemployment Rate is expected to be unchanged at 3.7%.
Meantime, USD is currently quite firm, having found support from the recent economic reports. Besides, USD is quite optimistic ahead of the upcoming economic reports and events. After the recent US Rate Hike to 2.50%, USD managed to sustain the momentum against AUD that is expected to extend further in the coming days if upcoming economic reports meet the expectations.
Now let us look at the technical view. The price has rejected the bearish pressure quite significantly today which indicates the volatility level of the overall momentum in the pair. As per recent Bullish Continuous Divergence forming in the pair, the price is expected to retrace towards 0.7000-50 resistance area where the dynamic level of 20 EMA is also expected to meet and push the price lower again towards 0.6750 support area in the coming days.
SUPPORT: 0.6750, 0.6850
RESISTANCE: 0.7000-50, 0.7150
BIAS: BEARISH
MOMENTUM: VOLATILE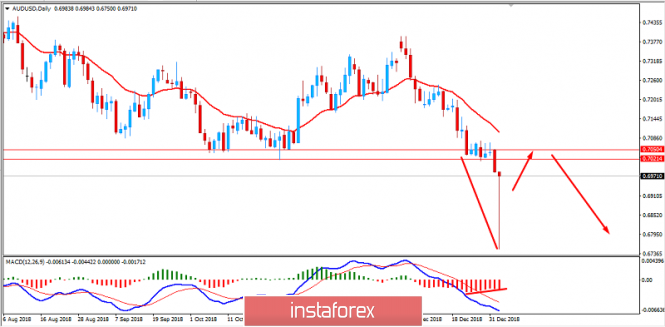 The material has been provided by InstaForex Company -
www.instaforex.com

Fatal error: Uncaught Exception: 12: REST API is deprecated for versions v2.1 and higher (12) thrown in /var/www/forex-winner.com/htdocs/wp-content/plugins/seo-facebook-comments/facebook/base_facebook.php on line 1039