Headline US retail sales increased 0.7% in July, above consensus forecasts of 0.3%, although there was a marginal downward revision of June's data. Underlying sales increased 1.0%, above expectations of 0.4% and the control group also posted strong growth of 1.0%.
The Philadelphia Fed manufacturing survey declined to 16.8 for August from 21.8 previously, although this was above consensus forecasts. There was strength in new orders, although employment growth slowed sharply.
The New York Fed manufacturing index rose marginally to 4.8 from 4.3 previously as new orders moved into positive territory. Employment indices remained subdued and pricing pressures eased.
Initial jobless claims increased to 220,000 from 211,000 previously.
The data improved overall market sentiment and Treasuries retreated following the releases. Although the 10-year yield was still below 1.60%, the yield curve nudged back into positive territory.
There was a rebound in US equity futures after heavy losses recorded on Wednesday.
Following the data, the chances of a 0.50% rate cut at September's meeting declined to around 31% from 36% ahead of the data.
The dollar secured limited gains with USD/JPY trading around 106.20 after again finding support near 105.80 while EUR/USD retreated to 1.1140.
Volatile trading will remain inevitable with further fluctuations on trade and currency rhetoric. Risk conditions will remain brittle at best. However, USD/JPY held up better than expected during Wednesday's downturn on Wall Street, increasing speculation that Japan's Finance Ministry may have been orchestrating some dollar buying by major domestic institutions.
On a very short-term view, USD/JPY has scope for support in the 105.80-106.00 band with selling pressure at 106.75.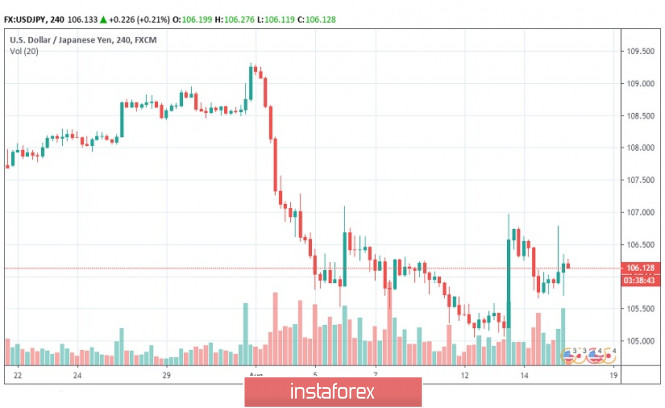 The material has been provided by InstaForex Company -
www.instaforex.com

Fatal error: Uncaught Exception: 12: REST API is deprecated for versions v2.1 and higher (12) thrown in /var/www/forex-winner.com/htdocs/wp-content/plugins/seo-facebook-comments/facebook/base_facebook.php on line 1039