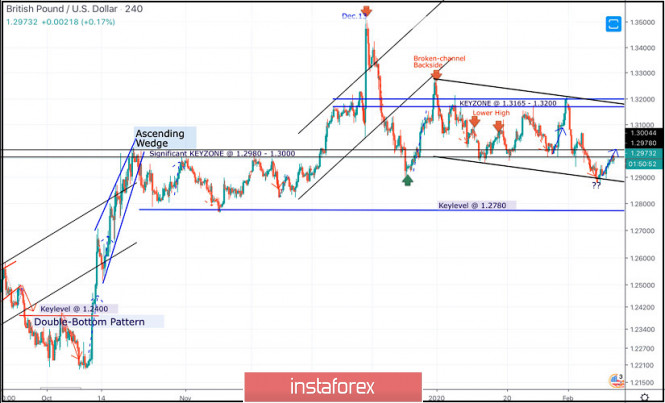 On December 13, the GBPUSD pair looked overpriced around the price levels of 1.3500 while exceeding the upper limit of the newly-established bullish channel.
On the period between December 18th - 23rd, bearish breakout below the depicted channel followed by temporary bearish closure below 1.3000 were demonstrated on the H4 chart.
However, immediate bullish recovery (around 1.2900) brought the pair back above 1.3000.
Bullish breakout above 1.3000 allowed the mentioned Intraday bullish pullback to pursue towards 1.3250 (the backside of the broken channel) where bearish rejection and a new wide-ranged movement channel were established between (1.3200-1.2980).
Moreover, new descending highs were recently demonstrated around 1.3200 and 1.3080.
During the past few days, signs of bullish rejection were temporarily manifested around 1.2980-1.3000 before obvious bearish breakdown could occur.
Intraday technical outlook is supposed to remain bearish as long as the pair maintains its movement below 1.3080 (the most recently-established descending high).
Bearish breakdown below 1.2980 enhanced further bearish decline towards 1.2890 where Intraday traders were advised to watch price action carefully (the lower limit of the movement channel).
Since Monday, early signs of bullish rejection have been expressed allowing the current bullish pullback to pursue towards 1.3000 where bearish rejection and another SELL entry can be offered.
On the other hand, bullish breakout above 1.3000 will enable further bullish advancement towards 1.3100 and probably 1.3200.
The material has been provided by InstaForex Company -
www.instaforex.com

Fatal error: Uncaught Exception: 12: REST API is deprecated for versions v2.1 and higher (12) thrown in /var/www/forex-winner.com/htdocs/wp-content/plugins/seo-facebook-comments/facebook/base_facebook.php on line 1039