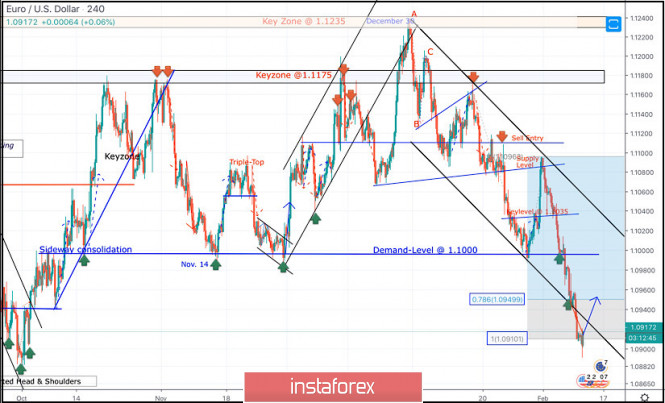 On December 30, a bearish ABC reversal pattern was initiated around 1.1235 (Previous Key-zone) just before another bearish movement could take place towards 1.1100 (In the meanwhile, the EURUSD pair has lost much of its bearish momentum).
One more bullish pullback was executed towards 1.1175 where the depicted key-zone as well as the recently-broken uptrend were located.
Evident signs of bearish rejection were demonstrated around 1.1175. That's why, quick bearish decline was executed towards 1.1100 then 1.1035 which failed to provide enough bullish SUPPORT for the EURUSD pair.
Further bearish decline took place towards 1.1000 where the pair looked quite oversold around the lower limit of the depicted bearish channel.
Hence, significant bullish rejection was able to push the pair back towards the nearest SUPPLY levels around 1.1080-1.1100 where a confluence of supply levels (including the upper limit of the channel) were located.
Since then, the pair has been trending within the depicted bearish channel.
Hence, further bearish decline was expected towards 1.0950 where (Fibonacci Expansion level 78.6%) and the lower limit of the channel are located.
Bearish closure below 1.0950 allowed another bearish decline to occur towards the next key-level 1.0910 (Fibonacci Expansion level 100%).
Intraday traders are advised to look for signs of bullish recovery around the price level of (1.0910) as a valid intraday BUY signal.
Overall, The intermediate technical outlook remains bearish as long as bearish persistence below 1.1000 is maintained on the H4 chart.
However, the EUR/USD pair looks quite overpriced after such a long bearish decline and if the current bullish recovery is maintained above 1.0910, further bullish advancement would be expected towards 1.0950 and probably higher (around 1.0990) if enough bullish momentum is expressed above 1.0950.
On the other hand, any bearish breakout below 1.0880 invalidates the previous short-term bullish scenario.
The material has been provided by InstaForex Company -
www.instaforex.com

Fatal error: Uncaught Exception: 12: REST API is deprecated for versions v2.1 and higher (12) thrown in /var/www/forex-winner.com/htdocs/wp-content/plugins/seo-facebook-comments/facebook/base_facebook.php on line 1039