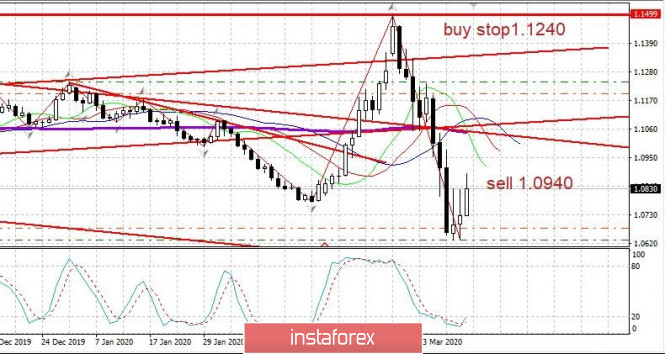 Markets are growing on Tuesday - US indices +4% on futures before the opening, Chinese indices rose. Gold is growing.
A novice trader/investor may get the false impression that the main market decline is complete and it is possible to buy, especially given the low stock prices.
This is fundamentally wrong.
Why: a) The situation in Italy with the epidemic is not yet clear. The number of deaths seems to be decreasing, but the growth of newly infected is not lower than +10% per day. b) everything is just unfolding in the US. The development of the plot is still unclear in Germany, Spain, and France.
c) a big crisis in the economy of Europe and the United States, is probably inevitable. The IMF stated that the crisis was inevitable.
However, the crisis has not yet begun.
EUR USD: Cancellation of sale from 1.0940.
We will sell on the breakout from 1.0635.
The material has been provided by InstaForex Company -
www.instaforex.com

Fatal error: Uncaught Exception: 12: REST API is deprecated for versions v2.1 and higher (12) thrown in /var/www/forex-winner.com/htdocs/wp-content/plugins/seo-facebook-comments/facebook/base_facebook.php on line 1039