To open long positions on EURUSD, you need:
In my morning review, I drew attention to the important resistance level of 1.1080, which now serves as a support. The divergence that was formed on the MACD indicator has not been worked out. Bulls managed to gain a foothold above the range of 1.1080 on the background of good data on the services sector of the eurozone and the growth of orders in the German industry. While trading is above this level, we can expect the continuation of the upward correction, and the main goal of the bulls for the second half of the day will be to update the highs of 1.1104 and 1.1129, where I recommend taking the profits. If the trade returns to the level of 1.1080, then in this scenario, it is best to consider new long positions after updating the weekly minimum in the area of 1.1050 or buy the pair immediately on the rebound in the area of 1.1026.
To open short positions on EURUSD, you need:
Sellers failed to defend the level of 1.1080, but it was quite expected, as I spoke in more detail in the morning review. At the moment, the bears' task is to return EUR/USD to the level of 1.1080, which will move the market to their side. In this scenario, you can count on a second attempt to reduce the euro in the area of large support of 1.1050, where today I recommend fixing the profit. However, the absence of important fundamental statistics on the US may keep the demand for EUR/USD in the afternoon. The continuation of the upward correction will lead to an update of the resistance of 1.1104, from which the euro can be sold only if a false breakdown is formed there. I recommend opening short positions immediately on the rebound only after the test of the maximum of 1.1129.
Indicator signals:
Moving Averages
Trading is below the 30 and 50 moving averages, indicating a further decline in the euro in the short term.
Bollinger Bands
Growth may resume if the upper limit of the indicator breaks in the area of 1.1090. In the case of a decline in the pair, the lower border of the indicator around 1.1060 will provide support.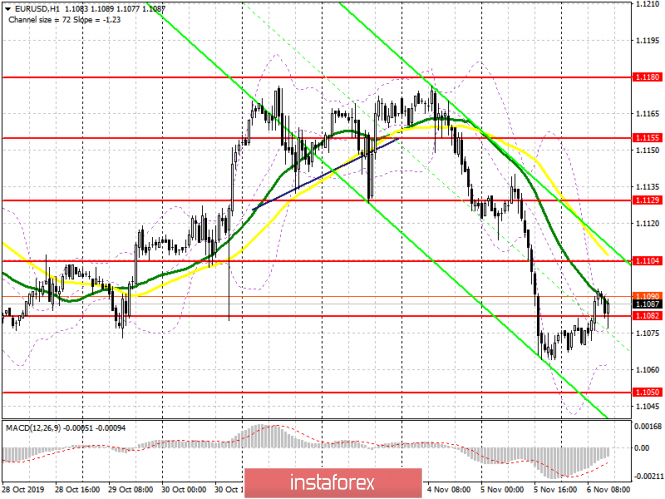 Description of indicators
MA (moving average) 50 days – yellow
MA (moving average) 30 days – green
MACD: fast EMA 12, slow EMA 26, SMA 9
Bollinger Bands 20
The material has been provided by InstaForex Company -
www.instaforex.com

Fatal error: Uncaught Exception: 12: REST API is deprecated for versions v2.1 and higher (12) thrown in /var/www/forex-winner.com/htdocs/wp-content/plugins/seo-facebook-comments/facebook/base_facebook.php on line 1039