To open long positions on EURUSD, you need:
Data on the reduction of production activity in the eurozone countries quite predictably put pressure on the European currency in the first half of the day, but this did not lead to a major sale, as the bulls managed to hold the support of 1.1158. Therefore, from a technical point of view, nothing has changed. A false breakdown in the area of 1.1158 returned buyers to the market, whose main task is to break and consolidate above the maximum of 1.1180 since only its breakdown will open the way for EUR/USD to new levels of 1.1226 and 1.1289, where I recommend fixing the profits. If the pressure on the pair returns, and this can now happen only after the statements made in the afternoon by the new president of the European Central Bank, Christine Lagarde, then a break of the level of 1.1158 will push the pair into the support area of 1.1129, from where it can take long positions subject to a false breakdown. I recommend buying immediately for a rebound only from a larger area of support for this week – 1.1082.
To open short positions on EURUSD, you need:
Sellers need to hold the level of 1.1180, the formation of a false breakdown at which will be the first signal to open short positions. However, a more important goal will be the support of 1.1158, below which it was not possible to break through today in the first half of the day even against the background of weak data on industrial activity. Now, all the focus will be on Lagarde's statements that it is necessary to adhere to the course of soft monetary policy, which can push the euro into the area of lows 1.129 and 1.1082, where I recommend taking the profits. In the case of EUR/USD growth above the resistance of 1.1180, it is best to return to short positions on the rebound from the highs of 1.1226 and 1.1289.
Indicator signals:
Moving Averages
Trading is conducted around 30 and 50 moving averages, which indicates market uncertainty.
Bollinger Bands
Volatility has decreased, which does not give signals to enter the market.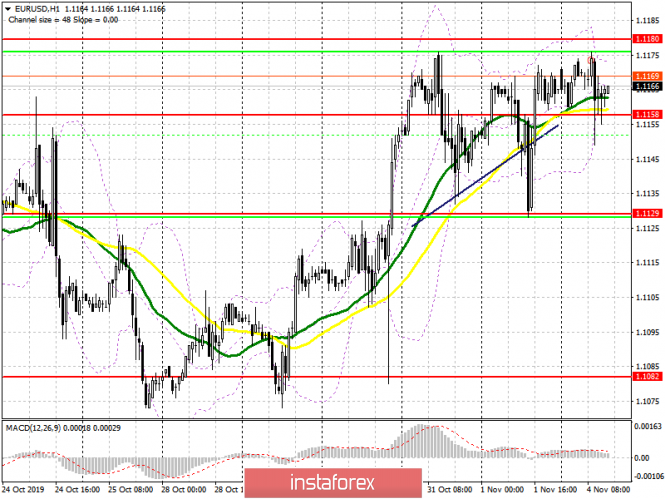 Description of indicators
MA (moving average) 50 days – yellow
MA (moving average) 30 days – green
MACD: fast EMA 12, slow EMA 26, SMA 9
Bollinger Bands 20
The material has been provided by InstaForex Company -
www.instaforex.com

Fatal error: Uncaught Exception: 12: REST API is deprecated for versions v2.1 and higher (12) thrown in /var/www/forex-winner.com/htdocs/wp-content/plugins/seo-facebook-comments/facebook/base_facebook.php on line 1039