4-hour timeframe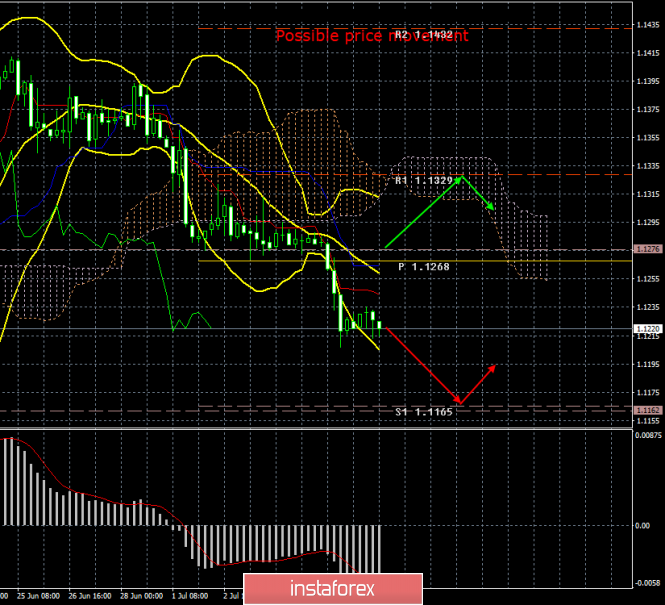 The amplitude of the last 5 days (high-low): 90p - 47p - 44p - 22p - 81p.
Average amplitude for the last 5 days: 57p (49p).
The first trading day of the current week, as expected, ends without sudden movements and with minimal volatility. No important macroeconomic reports were published today. Thus, traders had nothing to react to in a fundamental way. Tomorrow, Jerome Powell will give a speech in Congress, and in the meantime the markets are discussing possible actions by the Fed in the light of the strong Nonfarm Payrolls report in the United States. However, now the situation is turning against the US dollar. Just a week ago, we wrote that we should not rush to conclusions and expect the Fed to reduce the key rate in the coming months only on the basis of 3-4 weeks of weak macroeconomic statistics from overseas. Now we can say that we should not rush to conclusions because of one positive report from the United States. The best solution in this situation is to trade according to incoming information. Jerome Powell, of course, may shed light this week on the dark spot of the Fed's future actions. However, he is unlikely to do it. Like traders, the Fed responds to economic reports, to news about the external economy and US policy. Precisely, a decision will be made on easing monetary policy depending on the nature of this news. Thus, the euro remains in a downstream direction for the time being and there are no reasons for traders to buy the single currency. Perhaps they will appear tomorrow, but for this Powell should by all means hint at the willingness of the regulator to soften the monetary policy in July or September. We believe that his speech in Congress will be more neutral.
Trading recommendations:
The EUR/USD pair continues to move down. Thus, it is again recommended to buy the dollar with a target of 1.1165. Prerequisites for the purchase of the euro is not available now.
It is recommended to buy the euro/dollar pair no earlier than when the price consolidates above the Kijun-sen line with the first target resistance level at 1.1329. However, bulls will need fundamental reasons for this.
In addition to the technical picture should also take into account the fundamental data and the time of their release.
Explanation of the illustration:
Ichimoku indicator:
Tenkan-sen - the red line.
Kijun-sen - the blue line.
Senkou Span A - light brown dotted line.
Senkou Span B - light purple dotted line.
Chikou Span - green line.
Bollinger Bands indicator:
3 yellow lines.
MACD Indicator:
Red line and histogram with white bars in the indicator window.
The material has been provided by InstaForex Company -
www.instaforex.com

Fatal error: Uncaught Exception: 12: REST API is deprecated for versions v2.1 and higher (12) thrown in /var/www/forex-winner.com/htdocs/wp-content/plugins/seo-facebook-comments/facebook/base_facebook.php on line 1039