EURUSD has bounced as expected from 1.0950 to 1.1050 as expected. Price back tested the previous support now resistance area and got rejected. This bounce was a selling opportunity as we explained since trend remains bearish and price challenged the cloud resistance.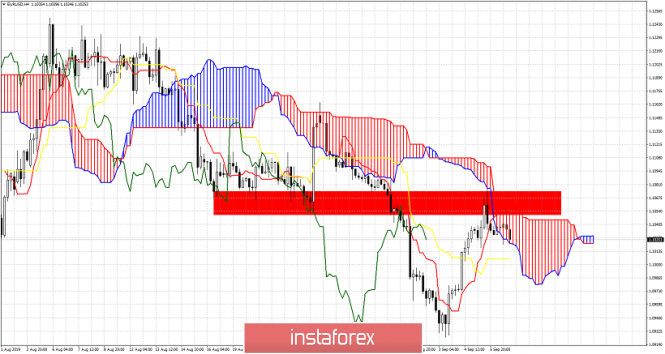 Red rectangle -resistance
EURUSD bounced towards cloud resistance and got rejected. Price has broken below the tenkan- sen (red line indicator). Support is found at 1.10 by the kijun-sen (yellow line indicator). Breaking below it combined with a break below the Kumo (cloud) would be a bearish signal at least for the short-term. If the tenkan-sen (red line indicator) crosses the kijun-sen (yellow line indicator) we will have another bearish signal for EURUSD that could lead to a move below 1.09. On the other hand if support at 1.10 holds and price breaks above 1.1085 then we have a bullish signal. However traders need to be very cautious even if price breaks above resistance and wait for a pull back towards cloud support.
The material has been provided by InstaForex Company -
www.instaforex.com

Fatal error: Uncaught Exception: 12: REST API is deprecated for versions v2.1 and higher (12) thrown in /var/www/forex-winner.com/htdocs/wp-content/plugins/seo-facebook-comments/facebook/base_facebook.php on line 1039