Trading recommendation: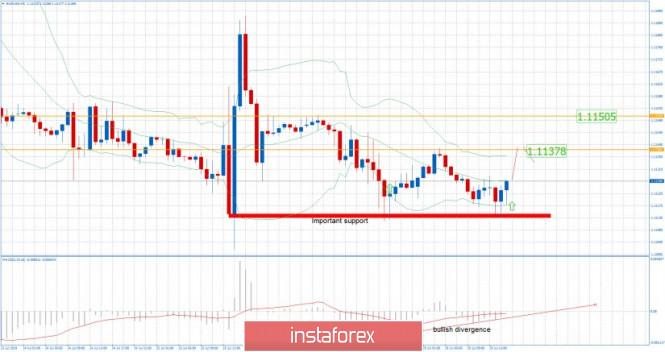 EUR did test very important support cluster at the price of 1.1112 but it found buyers, which is sign for me that there is a chance for the more upside. EUR is still trading within the range of the post ECB move from last week between the price of 1.1100 and 1.1186.
Red rectangle – Important support (1.1112)
Orange horizontal line – Resistance (1.1137)
Orange rectangle – Resistance 2 (1.1150)
MACD oscillator is showing the bullish divergence on the last 2 swing lows, which is sign for me that sellers got exhausted, which is good sign for the further upside. As long as the EUR is trading above the level of 1.1100, I would watch for buying opportunities. Upward targets are set at the price of 1.1137 and 1.1150.
The material has been provided by InstaForex Company -
www.instaforex.com

Fatal error: Uncaught Exception: 12: REST API is deprecated for versions v2.1 and higher (12) thrown in /var/www/forex-winner.com/htdocs/wp-content/plugins/seo-facebook-comments/facebook/base_facebook.php on line 1039