EUR did exactly what I expected. Yesterday, EUR filed both my targets at 1.1240 and 1.1280. Anyway, today the sellers reacted on the overbought market from yesterday and EUR did back all the way down to 1.1214 (support). In my opinion, you should watch for potential buying opportunities due to support on the test. Upward targets are set at the price of 1.1239 and 1.1261.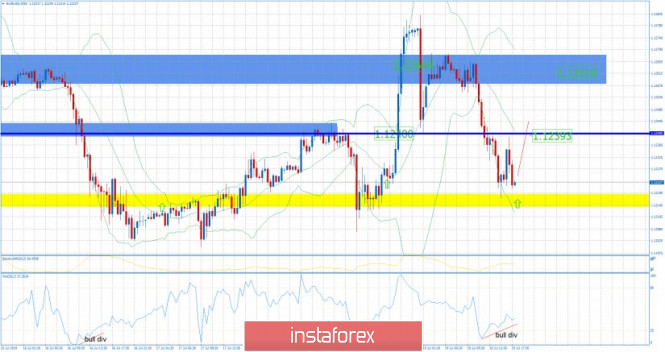 Trading recommendation:
Yellow rectangle – Support (1.1214)
Blue horizontal line- Resistance 1 (1.1239)
Blue rectangle – Resistance 2 1.1260)
Bullish divergence on the stochastic oscillator in the background is the sign of the potential rally incoming. EUR is trading in well defined trading range and there is no imbalance on this market. It is very unlikely that EUR take the major swing low at the price of 1.1200. Watch for buying opportunities with the upward targets at 1.11239 and 1.1260.
The material has been provided by InstaForex Company -
www.instaforex.com

Fatal error: Uncaught Exception: 12: REST API is deprecated for versions v2.1 and higher (12) thrown in /var/www/forex-winner.com/htdocs/wp-content/plugins/seo-facebook-comments/facebook/base_facebook.php on line 1039