EUR/USD – 24H.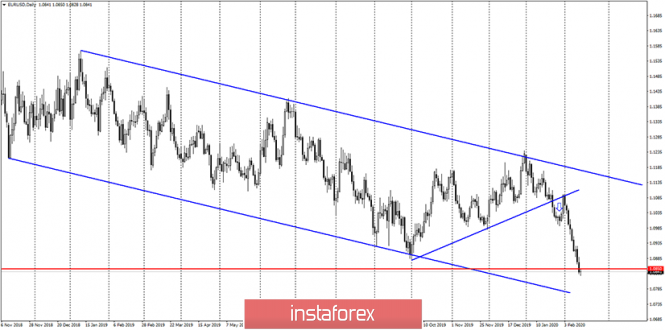 Good day, dear traders!
First of all, I would like to inform you that the long-term trading week that I announced a few weeks ago has been more than fulfilled. Yesterday, I doubted that the drop in quotes would continue, as the pair rested on strong support, which could form a "double bottom" pattern in the event of a rebound. However, the information background now supports the dollar so much that the fall continued and the initial target level of 1.0850 was worked out. Thus, the development of this trading idea can be considered complete.
EUR/USD – 1H.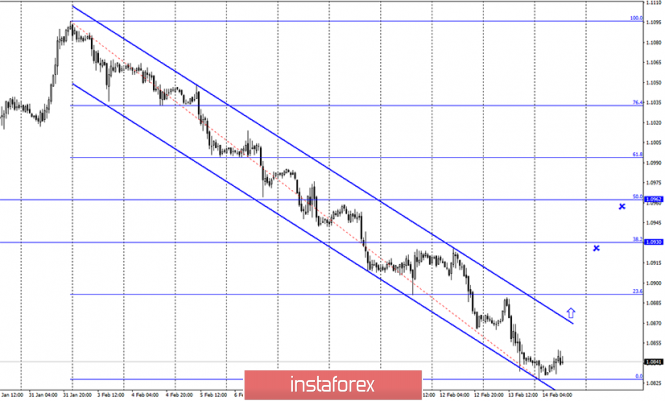 On the hourly chart, we have a downward trend corridor, which is quite narrow, which indicates a small number of pullbacks against the main trend. Thus, the new trading idea is to buy the European currency if the quotes of the euro/dollar pair perform a close over the trend area, which continues to determine the current mood of traders as "bearish". I believe that after such a strong fall, it is reasonable to expect a 38% or 50% pullback. However, also, given the strength of the trend, and the information background that only supports the dollar, I recommend waiting for the exit from the trend range as a confirmation of the trading idea. The targets are 1.0930 and 1.0962. That is, the potential Take Profit will be 60-80 points, which is not so small for the euro. By the way, the information background continues to put pressure on the euro today, Friday, February 14. The GDP of the EU has lost even more growth and is only 0.9% y/y in the fourth quarter, while traders expected at least a 1% increase. The euro is still holding back from a new fall. We are waiting for American news on retail sales and industrial production.
Forecast for EUR/USD and trading recommendations:
The new trading idea is to buy the euro with the targets of 1.0954 and 1.0981. Unlike previous risky trading ideas, this time I suggest waiting for the closing over the trend range, and then start buying. This condition may take from one to several days to complete.
The material has been provided by InstaForex Company -
www.instaforex.com

Fatal error: Uncaught Exception: 12: REST API is deprecated for versions v2.1 and higher (12) thrown in /var/www/forex-winner.com/htdocs/wp-content/plugins/seo-facebook-comments/facebook/base_facebook.php on line 1039