EURUSD is making new lows and this selling pressure should come as of no surprise to traders especially after price had broken below the 1.12 support level. This was noted several times in previous posts and how important a support it was.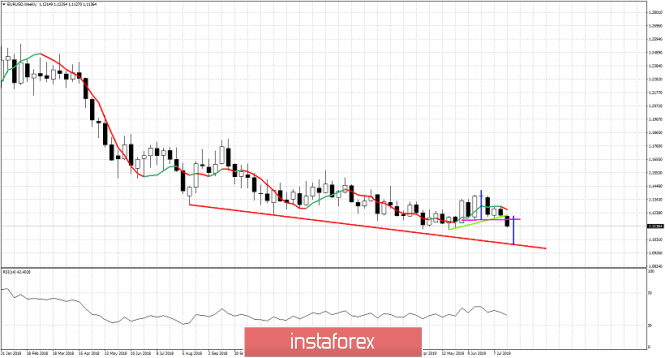 Red line -long-term support
Magenta line - neckline support broken
Blue lines - target of neckline breakdown
EURUSD has broken below the key support of 1.12 and the road to 1.10 has opened. Price has made a bearish formation around 1.12 and combined with a triple top rejection at 1.1280 the mixture is deadly for bulls. Trend is bearish. EURUSD is heading below 1.11 and as long as price is below 1.1280 any bounce is considered selling opportunity. Target to the downside is found between 1.1050 and 1.0975. A bounce towards 1.12 could be seen at the end of this week in order for bears to liquidate some of their profits, but in order to see more downside towards 1.10 we should not see price recapture 1.12.
The material has been provided by InstaForex Company -
www.instaforex.com

Fatal error: Uncaught Exception: 12: REST API is deprecated for versions v2.1 and higher (12) thrown in /var/www/forex-winner.com/htdocs/wp-content/plugins/seo-facebook-comments/facebook/base_facebook.php on line 1039