EURUSD has broken below 1.1165 and has canceled our bullish pattern. This means now that we are looking either at a reversal from the 61.8% Fibonacci retracement level or the continuation of the down trend targeting 1.10 and lower.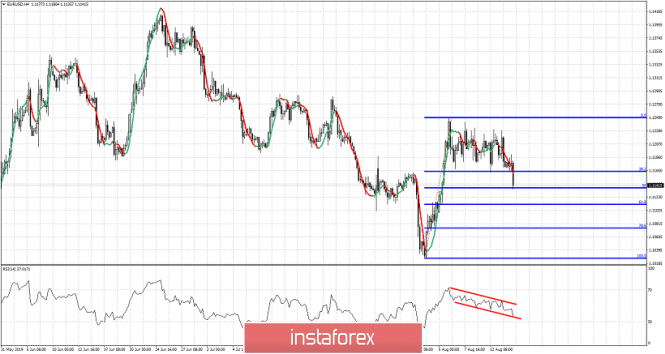 Red lines - bearish channel
EURUSD is at the 50% Fibonacci retracement of the last upward leg. Short-term trend is bearish again and as long as price is below 1.12-1.1230 we do not turn bullish. Support by Fibonacci is at 1.1111 and if bulls fail to hold above it, then we the chances for a move towards 1.10 and lower increase dramatically. If support holds and prices bounce, then we could see the second leg higher we expect towards 1.13-1.1350. For now bears are in control of the short and medium-term trend. The RSI is trading inside a bearish channel and as long as we do not see an upward break out we remain pessimistic.
The material has been provided by InstaForex Company -
www.instaforex.com

Fatal error: Uncaught Exception: 12: REST API is deprecated for versions v2.1 and higher (12) thrown in /var/www/forex-winner.com/htdocs/wp-content/plugins/seo-facebook-comments/facebook/base_facebook.php on line 1039