EURUSD has broken through 1.12 and is already 50 pips lower. Trend remains bearish. As we mentioned in previous post there would not be a fourth bounce from 1.12. A break below it would be for real the next time. And here we are. EURUSD is in bearish trend looking for a move towards 1.11 again where the 2019 lows are found.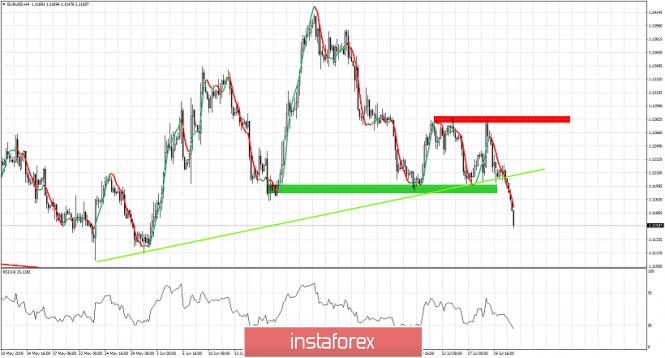 Red rectangle - resistance
Green rectangle - support
Green line - trend line support
EURUSD has broken through support and is accelerating lower. Any bounce is considered a selling opportunity as long as price is below 1.1280. Trend is bearish. Target is 1.11-1.1050 over the coming days. We could see a back test of 1.12 but we will also most probably see a rejection. Current price action suggests that the entire move from 1.11 to 1.1412 was just a bounce in the bigger down trend. Taking into consideration the long-term bullish divergence, I would expect a new marginal lower low between 1.11-1.1050 and then a reversal to the upside.
The material has been provided by InstaForex Company -
www.instaforex.com

Fatal error: Uncaught Exception: 12: REST API is deprecated for versions v2.1 and higher (12) thrown in /var/www/forex-winner.com/htdocs/wp-content/plugins/seo-facebook-comments/facebook/base_facebook.php on line 1039