Corona virus news: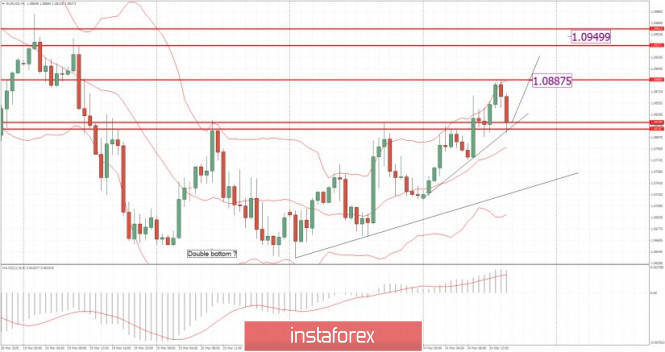 Data firm Markit reports that business activity across services and manufacturing has slumped this month, as the coronavirus deals the UK economy "a more severe blow than at any time since comparable figures were first available over 20 years ago".
Output has slumped, new orders have contracted at their fastest pace since 2008, and business expectations have absolutely cratered.
This has dragged Markit's survey of UK purchasing managers down to just 37.1 in March, down from 53.0 in February. That shows an extremely sharp fall in activity.
It's the worst reading since the survey began in 1998, and means the economy is contracting much faster than after the collapse of Lehman Brothers in 2008.
Technical analysis
: EUR has been trading upwards. The price tested and rejected of the level 1.0887. Anyway, due to strong demand today and the breakout of the multi-pivot resistance at 1.0828, I do expect further upside and potential test of the 1.0887 and 1.0950.
Watch for potential buying opportunities on the dips using the hourly time-frame.
MACD oscillator is showing upside momentum and rising slow line, which is sign that buyers are in control.
Resistance levels are found at the price of 1.0887 and 1.0950
Support levels are set at the price of 1.0820 and 1.0775.
The material has been provided by InstaForex Company -
www.instaforex.com

Fatal error: Uncaught Exception: 12: REST API is deprecated for versions v2.1 and higher (12) thrown in /var/www/forex-winner.com/htdocs/wp-content/plugins/seo-facebook-comments/facebook/base_facebook.php on line 1039