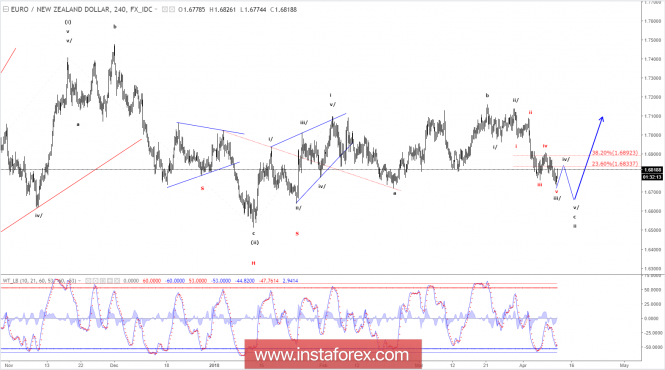 EUR/NZD decline to 1.6739 in red wave v to complete wave iii/ and we should now see a sideways consolidation in wave iv/ close to 1.6892 before the final stab lower in wave v/ to 1.6620 as the ideal downside target.
Short-term minor resistance is seen near 1.6834, which is expected to cap temporally for a setback to 1.6770 before higher towards 1.6892 in wave iv/. We expect this wave iv/ correction to be complex, with unexpected twist and turns.
R3: 1.6892
R2: 1.6872
R1: 1.6834
Pivot: 1.6808
S1: 1.6785
S2: 1.6758
S3: 1.6739
Trading recommendation:
We are short EUR from 1.6900. We will move our stop lower to 1.6860.We will take profit at 1.6770. Looking for an opportunity to re-sell EUR near 1.6890.
The material has been provided by InstaForex Company -
www.instaforex.com

Fatal error: Uncaught Exception: 12: REST API is deprecated for versions v2.1 and higher (12) thrown in /var/www/forex-winner.com/htdocs/wp-content/plugins/seo-facebook-comments/facebook/base_facebook.php on line 1039