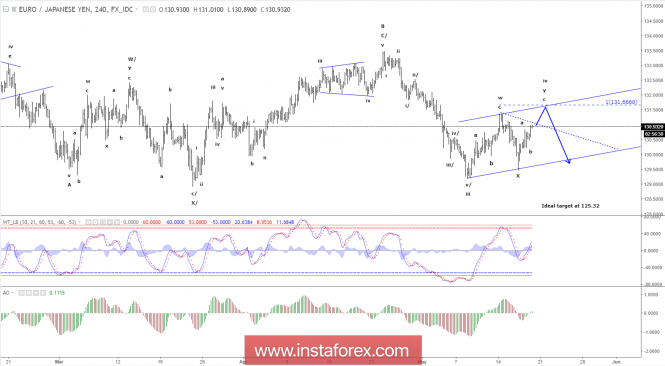 As EUR/JPY unexpectedly took out minor resistance at 130.73, we were told, that the wave iv is still developing and the final decline in the wave v closer to the target-area between 123.33 and 125.32 is being delayed.
Yesterday we said, that a break above minor resistance at 130.73 would call for a more complex correction in the wave iv and likely a rally to 131.68 and this still holds true, but we also need to be open to another complex corrective pattern, which is a triangle consolidation. If minor resistance near 131.15 is able to cap the upside for a break below 130.56, then this corrective pattern will be the preferred count for the wave iv and a dip closer to 130.05 will be expected in the wave c of the triangle.
R3: 131.68
R2: 131.37
R1: 131.15
Pivot: 130.75
S1: 130.56
S2: 130.27
R3: 130.04
Trading recommendation: Our stop at 130.80 was hit for a small profit of 15 pips. We will be looking for another selling opportunity at 131.50.
The material has been provided by InstaForex Company -
www.instaforex.com

Fatal error: Uncaught Exception: 12: REST API is deprecated for versions v2.1 and higher (12) thrown in /var/www/forex-winner.com/htdocs/wp-content/plugins/seo-facebook-comments/facebook/base_facebook.php on line 1039