The downward movement continues to be a medium-term impulse, which indicates the need to find favorable prices for the sale of the instrument. WCZ 1/4 1.2107-1.2098 was tested yesterday. For those who have already sold, it is necessary to track the closure of today's American session. If closing occurs below the zone again, you can continue to hold a short position.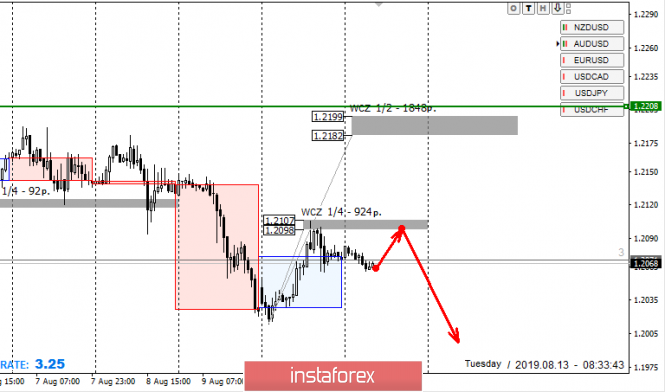 The probability of the continuation of the decline and renewal of the weekly and monthly minimums is 70%. Therefore, the retention of previously opened transactions is the optimal strategy.
For the transition to the flat phase and growth to WCZ 1/2 1.2199-1.2182, closing of today's trading above the level of 1.2107 is required. This will make it possible to obtain the most favorable selling prices in the future, but it will require the abandonment of transactions opened yesterday after testing the WCZ 1/4.
Daily CZ - daily control zone. The zone formed by important data from the futures market that changes several times a year.
Weekly CZ - weekly control zone. The zone formed by the important marks of the futures market, which change several times a year.
Monthly CZ - monthly control zone. The zone that reflects the average volatility over the past year.
The material has been provided by InstaForex Company -
www.instaforex.com

Fatal error: Uncaught Exception: 12: REST API is deprecated for versions v2.1 and higher (12) thrown in /var/www/forex-winner.com/htdocs/wp-content/plugins/seo-facebook-comments/facebook/base_facebook.php on line 1039