EURUSD has so far retraced 50% of the recent rise from 1.1193 to 1.1285. Short-term trend is bearish as price is making lower lows and lower highs. A reversal of trend should come once the ABC decline completes around 61.8% Fibonacci retracement and price breaks above 1.1275.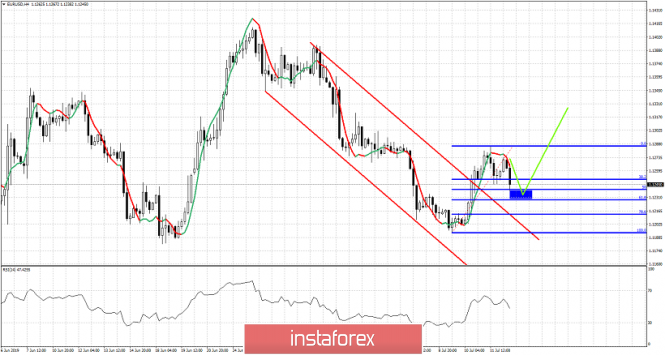 Red lines - bearish channel
Blue rectangle - possible reversal area
Green line - expected path
EURUSD is pulling back towards the upper channel boundary and towards the 50-61.8% Fibonacci retracement levels. A reversal to the upside from these levels is highly probable. EURUSD bulls should respect the 61.8% level and break above 1,1275 resistance in order to resume their up trend. Support is at 1.1228. I expect that it is more probable to see an upward reversal.
The material has been provided by InstaForex Company -
www.instaforex.com

Fatal error: Uncaught Exception: 12: REST API is deprecated for versions v2.1 and higher (12) thrown in /var/www/forex-winner.com/htdocs/wp-content/plugins/seo-facebook-comments/facebook/base_facebook.php on line 1039