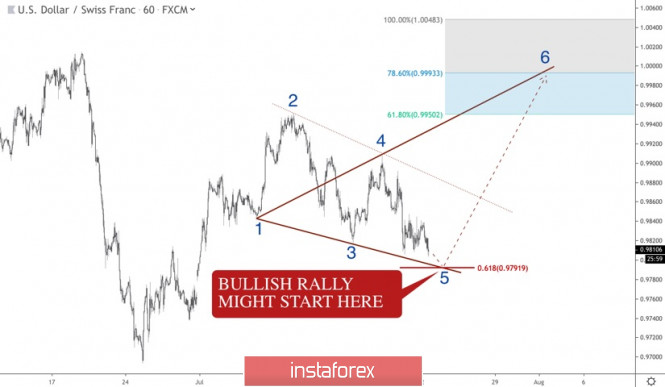 There're prospects of developing a Wolfe Wave pattern in USD/CHF. As we can see on the 60M chart, the market is about to finish wave 5. The main target is the 0.618 retracement level of the previous upward price movement at 0.9791. The subsequent pullback from this level could be a departure point for a sixth-wave rally.
The main target is the 78.6% extension level (0.9993) of the last bullish rally, which crosses the upper side of the Wolfe Wave pattern. However, if the price goes through this level, we should watch the 100% level (1.0048) as the next bullish target.
Besides, if line 1-3 turns out to be broken and the market moves below the 0.618 level (0.9791), this scenario will be at risk. If this happens, we should wait for the pair's return above this line as the first step into wave 6. The final confirmation will be a breakout of line 2-4.
The material has been provided by InstaForex Company -
www.instaforex.com

Fatal error: Uncaught Exception: 12: REST API is deprecated for versions v2.1 and higher (12) thrown in /var/www/forex-winner.com/htdocs/wp-content/plugins/seo-facebook-comments/facebook/base_facebook.php on line 1039