Industry news:
Chairman of the United States Securities and Exchange Commission (SEC), Jay Clayton has said that the organization is getting ever closer to finally approving a bitcoin ETF. However, Clayton went onto warn that further work needs to be done to avoid the manipulation of price and make sure the market is transparent.
Technical view: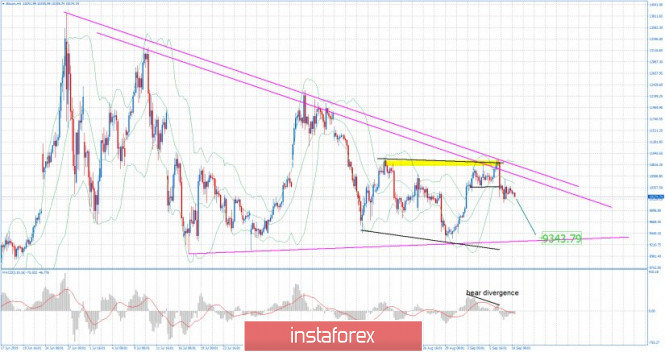 Bitcoin did exactly what I expected last yesterday and our downward target is still expected at the price of $9.350
Pink lines – Larger symmetrical triangle in play
Black lines - Channel
Green falling line – Expected path
Nothing specially changed since my yesterday's analysis.I still still expect potential new wave down for potential fulfill of the lower symmetrical triangle boundary. Additionally, I found that momentum on the upside decreasing in last up wave, which is indication for the weak buyers on the market. Key support is at $9.350 and resistance at $11.000 and $11.200. Bulls need to be very cautious as there is strong aggressive selling from the key resistance. As long as the Bitcoin is trading below $11.200, I would watch for selling opportunities. Watch for selling opportunities on the rallies on lower frames 5/15 for better timing. Most recently, I found rejection of the middle Bollinger band, which is another confirmation for the downward continuation.
The material has been provided by InstaForex Company -
www.instaforex.com

Fatal error: Uncaught Exception: 12: REST API is deprecated for versions v2.1 and higher (12) thrown in /var/www/forex-winner.com/htdocs/wp-content/plugins/seo-facebook-comments/facebook/base_facebook.php on line 1039