Industry news:
San Francisco-based US Capital Global Securities is dipping its toes into the world of cryptocurrencies and blockchain.
The FINRA-licensed broker-dealer company on Monday announced that it is committing $10 million to NYCQ Fund LP, a private digital venture capital fund launched by CityBlock Capital. The firm said it is seeking accredited investors to back the capital, believing the fund's growing portfolio in the blockchain and cryptocurrency sector would put them at the forefront of the digital market period.
Trading recommendation: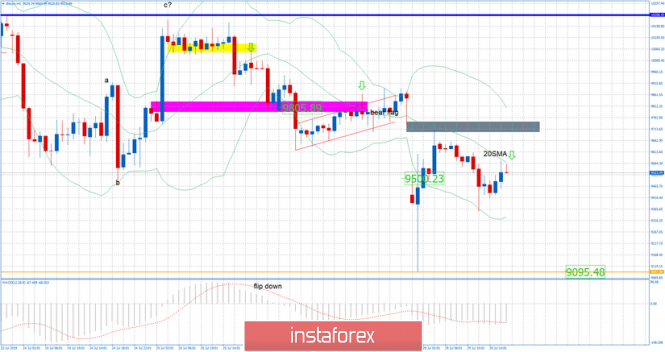 BTC did exactly what I expected last week. BTC did test our downward target at the price of $9.500 and it even went to $9.095. Buyers did try to react on the drop but maximum they got is to the middle of the Bollinger band. I still see more downside potential on the BTC. Watch for selling opportunities. The level of $9.564 looks like a solid sell zone.
Green middle line – 20SMA Resistance
Gray rectangle – Resitance ($9.713)
Horizontal orange line – Support ($9.095)
MACD oscillator is showing the new momentum low in the background and the BTC is trading in the negative territory, which confirms my bearish view. As long as the BTC is trading below $10.000, I would watch for selling opportunities on the rallies, level of $9.564 looks like a solid sell zone. Downward target is set at the price $9.095.
The material has been provided by InstaForex Company -
www.instaforex.com

Fatal error: Uncaught Exception: 12: REST API is deprecated for versions v2.1 and higher (12) thrown in /var/www/forex-winner.com/htdocs/wp-content/plugins/seo-facebook-comments/facebook/base_facebook.php on line 1039