Industry news:
As for private cryptocurrencies, given the risks associated with them and volatility in their prices, the Group has recommended banning of the cryptocurrencies in India and imposing fines and penalties for carrying on of any activities connected with cryptocurrencies in India.
Trading recommendation: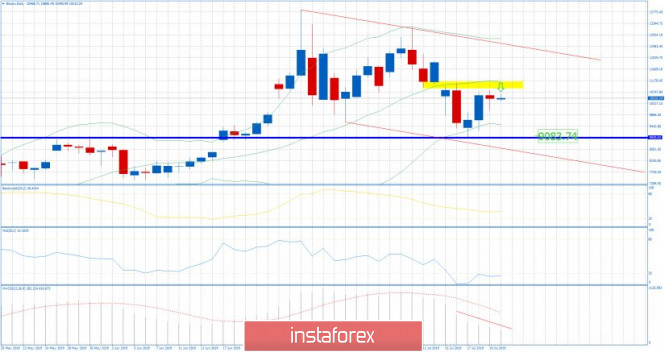 BTC has been trading sideways at the price of $10.500 in past 24 hours. BTC did test my important resistance level around $10.800 and found sellers, which is first sign of the potential down turn. Pay attention to the resistance at the price of $11.000 cause it is good sell zone up there.
Yellow rectangle – Resistance ($11.000)
Blue horizontal line- Support 1 ($9.083)
MACD oscillator is showing the decreasing momentum and BTC is trading near the resistance, which confirms my bearish view. Additionally, MACD oscillator is also showing that slow line did turn from bullish into bearish, which is another good confirmation for further downside. Bollinger % oscillator did show new momentum down few days ago, which is indication and BTC my at least try to re*visit the low at $9.083. Watch for selling opportunities with the first target at $9.083 as long as the BTC is trading below the $11.000.
The material has been provided by InstaForex Company -
www.instaforex.com

Fatal error: Uncaught Exception: 12: REST API is deprecated for versions v2.1 and higher (12) thrown in /var/www/forex-winner.com/htdocs/wp-content/plugins/seo-facebook-comments/facebook/base_facebook.php on line 1039