Industry news:
Marlin Protocol has reeled in a $3 million seed round from Binance Labs, Arrington XRP, Electric Capital, NGC and other investors.
The startup, based in San Francisco and Bangalore, India, works to increase network speeds across a variety of block chains. Throughput constraints – or limitations on how much data can smoothly flow through a network – are seen as a major impediment to widespread block chain adoption.
Trading recommendation: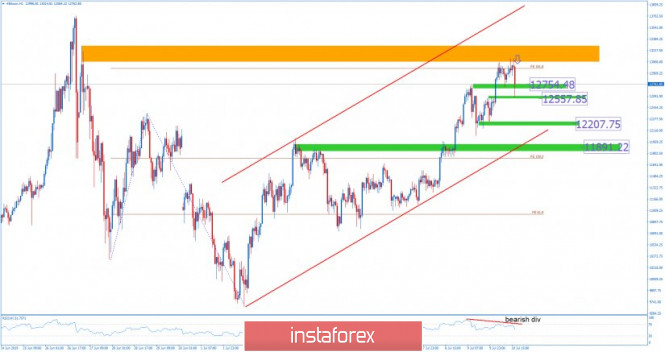 BTC did test very strong resistance at the price of $13.000 also round number. The zone from $13.000 to $13.300 is critical for BTC. I found that buyers struggling to break trough, which can be a first warning for the further downside.
Orange rectangle – $13.000-$13.300 (Strong resistance)
Green rectangles- Support levels at $12.557, $12.207 and $11.900
RSI – Bearish Divergence
RSI oscillator is showing the bearish divergence and reading below 70, which is good indication for the potential downward movement.. As long as the BTC is trading below the key swing high at $13.700, I would watch for selling opportunities on the rallies, level of $13.00 looks like a solid sell zone. Downward targets are set at the price of $12.557, $12.200 and $11.890.
The material has been provided by InstaForex Company -
www.instaforex.com

Fatal error: Uncaught Exception: 12: REST API is deprecated for versions v2.1 and higher (12) thrown in /var/www/forex-winner.com/htdocs/wp-content/plugins/seo-facebook-comments/facebook/base_facebook.php on line 1039