Industry news:
India's national police academy has launched a cryptocurrency course for high-ranking officers of the Indian Police Service. Among the objectives of the course are the functioning and legal aspects of cryptocurrencies, as well as investigations of cases involving digital coins. The Indian police continue to regularly uncover crypto-related schemes as the government deliberates on the regulatory framework for cryptocurrency.
Trading recommendation: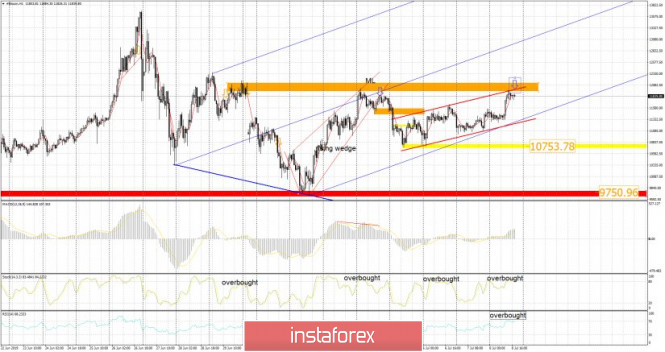 BTC did rally in past 24 hours and is now testing the key resistance at the price of $12.000 and also round number. Pay attention to the resistance at the price of $12.000 cause it is good sell zone up there.
Orange rectangle – Resistance ($12.000)
Yellow rectangle- Support 1 ($10.753)
Red rectangle – Support 2 ($9.750)
Red lines – Upward channel (upper line on test )
RSI oscillator and Stochastic are showing the potential overbought condition right on the critical resistance and I expect new selling wave. As long as the BTC is trading below $12.000, I would watch for selling opportunities on the rallies, level of $12.000 looks like a solid sell zone. Downward targets are set at the price of $10.753 and $9750.The material has been provided by InstaForex Company -
www.instaforex.com

Fatal error: Uncaught Exception: 12: REST API is deprecated for versions v2.1 and higher (12) thrown in /var/www/forex-winner.com/htdocs/wp-content/plugins/seo-facebook-comments/facebook/base_facebook.php on line 1039