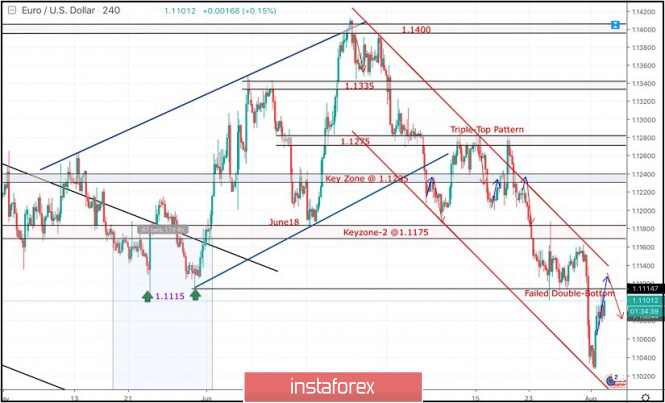 Back in June 24, the EURUSD looked overbought around 1.1400 facing a confluence of supply levels.
Thus, a bearish movement was initiated towards 1.1275 followed by a deeper bearish decline towards 1.1235 (the lower limit of the previous bullish channel) which failed to provide enough bullish support for the EUR/USD pair.
In the period between 8 - 22 July, sideway consolidation range was established between 1.1200 - 1.1275 until a triple-top reversal pattern was demonstrated around the upper limit.
Shortly after, evident bearish momentum (bearish engulfing H4 candlestick) could bring the EURUSD back below 1.1235.
Early bearish breakdown below 1.1175 facilitated further bearish decline towards 1.1115 (Previous Weekly Low) where bullish rejection was recently demonstrated on July 25.
That's why, Intraday bullish pullback was demonstrated towards 1.1175-1.1200 where a valid SELL entry was suggested in a previous article.
Earlier this week, bearish persistence below 1.1115 allowed further bearish decline towards 1.1025 where significant signs of bullish recovery were demonstrated.
Risky traders were advised to watch for bullish persistence above 1.1050 as a bullish signal for Intraday BUY entry with bullish target projected towards 1.1115-1.1140.
It's already running in profits. S/L should be advanced to entry levels to offset the associated risk.
The price zone of 1.1115-1.1140 (confluence of a recent SUPPLY level & the upper limit of the newly-established bearish channel) stands as a prominent SUPPLY zoneto be watched for bearish rejection and a possible SELL entry.
Trade recommendations :
Conservative traders should wait for a continuation of the current bullish pullback towards 1.1140 for a valid SELL entry.
S/L should be placed above 1.1175 while initial T/P level should be located around 1.1025.
The material has been provided by InstaForex Company -
www.instaforex.com

Fatal error: Uncaught Exception: 12: REST API is deprecated for versions v2.1 and higher (12) thrown in /var/www/forex-winner.com/htdocs/wp-content/plugins/seo-facebook-comments/facebook/base_facebook.php on line 1039