After a strong upward move from 0.6677 to 0.6822, price is pulling back and so far it has retraced 50% of the rise. The 61.8% Fibonacci level is the last line of defense for bulls according to Fibonacci levels. It would be ideal for bulls to see price touch that level and reverse to the upside.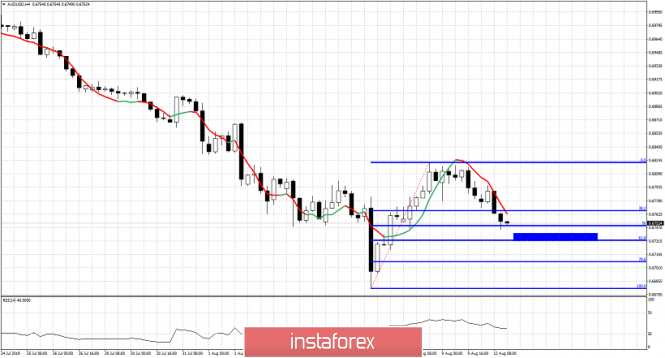 Blue rectangle - key Fibonacci support area
AUDUSD is pulling back. The blue area is a good short-term target for a reversal of this downward move and the resumption of the upward momentum from 0.6677. So support is at 0.6730 and bulls do not want to see a daily close below that level. Bulls want to see price reverse to the upside and break above recent highs at 0.6822. This would be a bullish signal and would give us 0.69 as the first target and 0.70 as the second. Traders need to be very cautious as there are many chances of trend reversing here. As long as price is below 0.6822 bears are in control. Bears will strengthen their control of the trend with a break below 0.6705. Bears will start losing control of the trend if price breaks above 0.6795.
The material has been provided by InstaForex Company -
www.instaforex.com

Fatal error: Uncaught Exception: 12: REST API is deprecated for versions v2.1 and higher (12) thrown in /var/www/forex-winner.com/htdocs/wp-content/plugins/seo-facebook-comments/facebook/base_facebook.php on line 1039