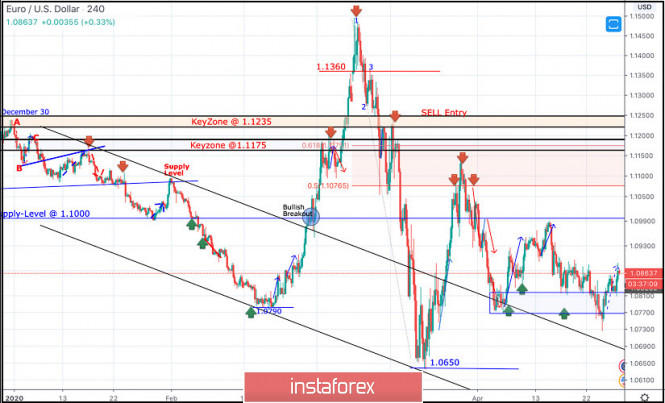 Few weeks ago, the EURUSD pair has expressed significant bullish recovery around the newly-established bottom around 1.0650.
The following bullish engulfing H4 candlesticks as well as the recently-demonstrated ascending bottoms indicated a high probability bullish pullback at least towards 1.0980 and 1.1075 (Fibonacci Level 50%).
Key Supply-Levels in confluence with significant Fibonacci levels are located around 1.1075 (50% Fibonacci) and 1.1175 (61.8% Fibonacci) where bearish rejection was highly-expected upon the latest bullish pullback that took place by the end of March.
Thus, the depicted Head & Shoulders pattern was demonstrated around the price levels of (1.1000 - 1.1075).
Further bearish decline was demonstrated towards 1.0800 where the nearest demand level to be considered was located near the backside of the broken channel (1.0800-1.0750).
Recent signs of Bullish rejection have been manifested around the price zone of (1.0800-1.0750) leading to the recent bullish spike up to 1.0990.
The short-term technical bullish outlook remains valid as long as bullish persistence is maintained above the recently-established ascending Bottom around 1.0770.
Further bullish advancement is expected to pursue towards 1.1000, 1.1075 then 1.1175 where 61.8% Fibonacci Level is located.
Despite the recent bearish decline, the price zone of (1.0815 - 1.0775) stood as a prominent Demand Zone which has been providing bullish support for the pair.
On the other hand, Please note that any bearish breakout below 1.0830 or 1.0770 (the recently established bottoms) invalidates the previously-mentioned bullish outlook.
Trade recommendations :
Intraday traders were advised to look for valid short-term BUY trades around the price zone of 1.0815 - 1.0775.
S/L to be placed below 1.0725 while T/P levels to be located around 1.0850, 1.0900, 1.1000 and 1.1075.
The material has been provided by InstaForex Company -
www.instaforex.com

Fatal error: Uncaught Exception: 12: REST API is deprecated for versions v2.1 and higher (12) thrown in /var/www/forex-winner.com/htdocs/wp-content/plugins/seo-facebook-comments/facebook/base_facebook.php on line 1039