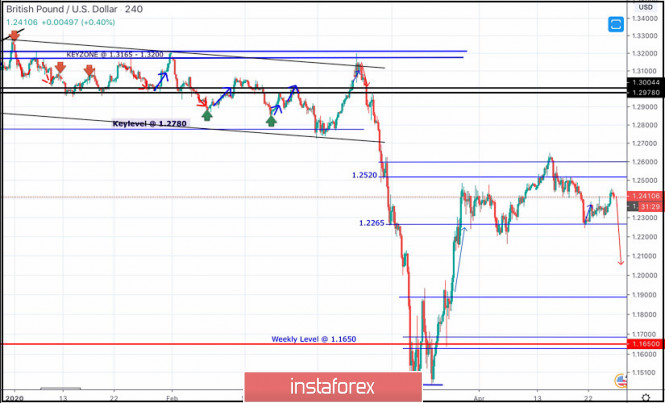 Recently, the GBPUSD has reached new LOW price levels around 1.1450, slightly below the historical low (1.1650) achieved in September 2016.
That's when the pair looked very OVERSOLD around the price levels of 1.1450 where a double-bottom reversal pattern was recently demonstrated as depicted on the chart.
Technical outlook will probably remain bullish if bullish persistence is maintained above 1.1890-1.1900 (Double-Bottom Neckline) on the H4 Charts.
Bullish breakout above 1.1900 invalidated the bearish scenario temporarily & enabled a quick bullish movement to occur towards 1.2260.
Next bullish targets around 1.2520 and 1.2680 were expected to be addressed if sufficient bullish momentum was maintained.
However, early bearish pressure signs have originated around 1.2470 leading to the previous bearish decline towards 1.2265.
That's why, H4 Candlestick re-closure below 1.2265 was needed to hinder further bullish advancement and enhance the bearish momentum on the short term.
On the other hand, the recent bullish persistence above 1.2265 has enhanced another bullish pullback movement up to the price levels of 1.2520-1.2590 where early signs of bearish rejection were manifested.
A Bearish Head & Shoulders reversal pattern may be in progress. The pair is currently demonstrating the right shoulder of the pattern.
That's why, the current bearish decline below 1.2520 is probably enhancing the bearish reversal scenario.
Moreover, Bearish persistence below 1.2265 (Reversal Pattern Neckline) is needed to enhance another bearish movement towards 1.2100, 1.2000 then 1.1920 where price action should be evaluated again.
Trade recommendations :
Conservative traders should be looking for bearish breakout below 1.2265 as a valid SELL entry.
T/P level to be located around 1.2100, 1.2000 then 1.1920 while S/L should be placed above 1.2400.
The material has been provided by InstaForex Company -
www.instaforex.com

Fatal error: Uncaught Exception: 12: REST API is deprecated for versions v2.1 and higher (12) thrown in /var/www/forex-winner.com/htdocs/wp-content/plugins/seo-facebook-comments/facebook/base_facebook.php on line 1039