The volatility in the GBP/CHF pair has been low with the bearish momentum which is currently consolidating and correcting at the edge of 1.2350 support area.
The British pound has gained momentum despite the comments of BOE Governor Carney who said that a no-deal BREXIT would have immediate troublesome consequences for the economy. He said it while presenting of Financial Stability Report. The BOE Governor also noted that the UK's banking system is still strong enough to continue the lend through the UK economic and financial shocks associated with Brexit. The pre-Brexit hoarding helped the UK economy to start the year on a solid footing but later the momentum was lost due to weak PMI data. The UK GDP growth on a monthly basis was seen to be lower than the previous data indicating weaker economic growth due to the global slowdown and ongoing Brexit uncertainties.
This week, the monthly GDP has turned back returning from -0.4% to 0.3% intervening the decline of the growth forecast of the UK.
On the other hand, the SNB has a plan of a rate cut if the FX interventions fail to dampen the upward pressure on CHF. The cut in the SNB's policy rate in September cannot be ruled out, though it is not the baseline scenario at this stage. The growth forecast for the Swiss franc has also indicated a decline due to the global growth concerns and elevated political uncertainties. The SNB inflation target is set at 0.7% on a yearly basis which is 0.1% up from the projection of last quarter. Switzerland's GDP growth has picked up in the first quarter, comparing to all large economies recording above-average expansion. The yearly retail sales have dropped from -0.8% to -1.7% missing the expectation of 0.6%. Further on, the manufacturing PMI has also dropped from 48.6 to 47.7 while the monthly CPI has declined from 0.3% to 0.0%. This week, the unemployment rate was unchanged at 2.3% down from the forecast of 2.4%.
As of the current scenario, amid better economic reports and optimistic expectations, the swiss franc managed to sustain the bearish pressure against the pound sterling which is expected to continue further until the UK comes up with better solutions for economic slowdown to counter the preceding bearish trend in place.
Now let us look at the technical view. The price is still quite non-volatile with the bearish trend, being held by the dynamic level of 20 EMA as resistance. The price has formed the Bullish Divergence, but it has not been established yet to work against the dominant bears in the process. As the price resides above 1.2350 with a daily close, the chances of bullish intervention will be constant.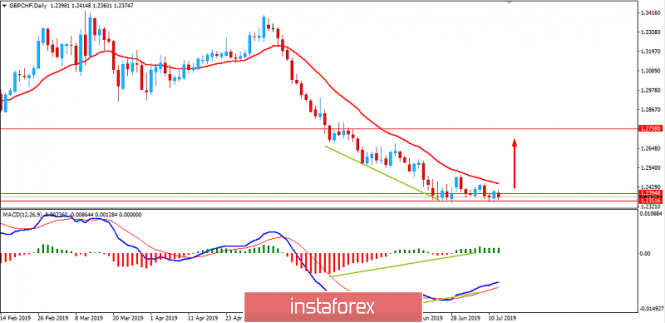 The material has been provided by InstaForex Company -
www.instaforex.com

Fatal error: Uncaught Exception: 12: REST API is deprecated for versions v2.1 and higher (12) thrown in /var/www/forex-winner.com/htdocs/wp-content/plugins/seo-facebook-comments/facebook/base_facebook.php on line 1039