Bitcoin is still struggling to sustain the bullish pressure above $10,500. As the price remains above $10,000 with a daily close, Bitcoin bulls have a good chance to push the price higher.
Bitcoin and the overall crypto market have faced prolonged downward pressure that they have been battling with over the past several weeks. The downward pressure that led Bitcoin back towards the four-figure price region was first sparked when the crypto currency sharply jumped to $13,800 which proved to be an unsustainable rally that subsequently led to an extended period of sideways trading. A daily volume has fallen off marginally as the digital asset continues to make lower highs and lower lows. The head and shoulders pattern is in progress. A break of the neckline is yet to come.
Recently, the American Treasury Secretary was fairly bearish on cryptocurrencies, mentioning their ability to be used by criminals for illicit activities, like money laundering, the sale of illicit drugs, and hacking which had diverted the overall market sentiment to bearish.
Bitcoin is expected to lose momentum as currently the price is trading below $10,500. BTC is expected to spend a few days sideways from $10,000 to $10,500 before any definite trend momentum. As the price remains above $10,000, there will be certain possibility of a bounce soon.
TECHNICAL OVERVIEW:
The price is trading inside the Kumo cloud resistance area holding below $10,500 with a strong intraday bearish close. The dynamic levels like 20 EMA, Tenkan and Kijun line are above the current price which can act as resistance. The Chikou Span has found support in the price line which might lead to certain bullish pressure, but no other bullish pressure can sustain until the price clears above $10,500 again to establish a strong momentum. For further upward thrust to continue, a break above $10,500 with a daily close is required.
TRADING LEVELS and BIAS:
SUPPORT: 9,500, 9,800, 10,000
RESISTANCE: 10,500, 11,000, 11,500, 12,000
BIAS: Bearish
MOMENTUM: Volatile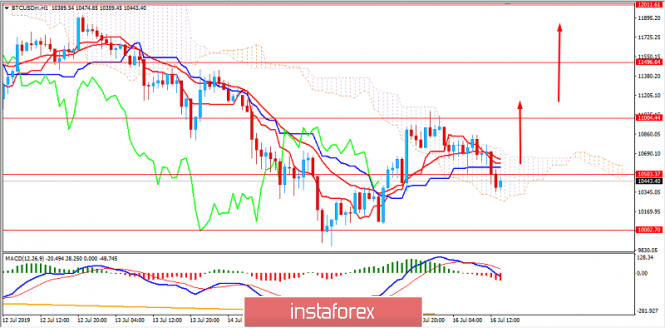 The material has been provided by InstaForex Company -
www.instaforex.com

Fatal error: Uncaught Exception: 12: REST API is deprecated for versions v2.1 and higher (12) thrown in /var/www/forex-winner.com/htdocs/wp-content/plugins/seo-facebook-comments/facebook/base_facebook.php on line 1039