Bitcoin has been on a roller coaster recently. The price has been ranging between $10,000 to $14,000. BTC is currently residing at near $10,500 while forming bullish momentum along the way.
While the outlook is currently negative, there are signs that Bitcoin will recover into the end of 2019. There are predictions that Bitcoin may surge 250% from the current price level which would push the price towards $40,000. The last quarter of 2019 is expected to be quite bullish for Bitcoin based on analytical reviews so that the price may surpass the bullish run of 2017.
Amid expectations of a rate cut by the Federal Reserve this month, Bitcoin could regain momentum and climb higher. Any impulsive bullish pressure above $14,000 would lead the price towards $20,000 in no time. Though the US central bank has been quite indecisive with the rate cut recently, the current economic conditions, the US government involvement, and low consumer inflation could assure the Fed to raise interest rates at the policy meeting in July. Meanwhile, safe-haven investment is viewed as gold and bitcoin. BTC which is widely expected to surge higher in the coming days.
TECHNICAL OVERVIEW:
The price recently bounced off the $10,000 area again after an impulsive non-volatile bearish trend in place. The price managed to regain bullish pressure but until $10,500 is taken out with strong bullish pressure, the upcoming upward pressure is still unreliable. The price has managed to break above the dynamic level resistances and Chikou span is on its way to break above the price line which will take into form after the price successfully breaks above $10,500 area in the coming hours. As the price progresses higher, Kumo Cloud is expected to act as dynamic resistance. On the other hand, breaking above it will reinforce the bullish pressure which could lead the price towards $14,000 again in the coming days.
TECHNICAL LEVELS:
SUPPORT: 9,500, 10,000
RESISTANCE: 10,500, 11,000, 11,500, 12,000
CURRENT BIAS: BEARISH
MOMENTUM: VOLATILE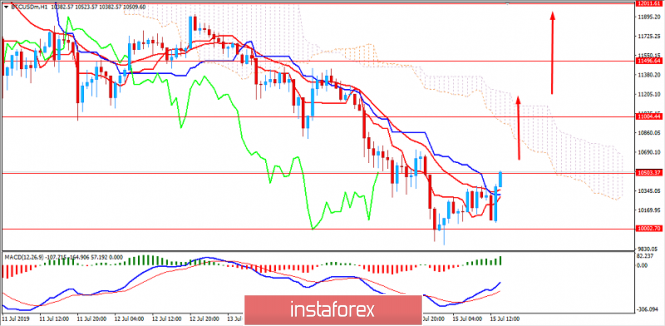 The material has been provided by InstaForex Company -
www.instaforex.com

Fatal error: Uncaught Exception: 12: REST API is deprecated for versions v2.1 and higher (12) thrown in /var/www/forex-winner.com/htdocs/wp-content/plugins/seo-facebook-comments/facebook/base_facebook.php on line 1039