Hourly chart of the GBP/USD pair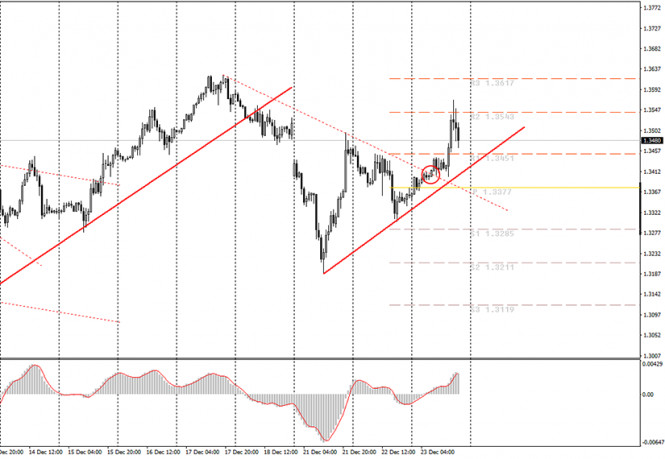 The GBP/USD pair traded quite nicely in technical terms on Wednesday. The pound/dollar pair crossed the downward trend line during the day, which is now marked with a dotted line in the chart. Thus, a buy signal was generated, which novice traders had every right to work out, according to our recommendations. If they did this, then at the moment (taking into account the fall in the pair's quotes in the last few hours), they are in profit by around 50 points. If they closed deals near the resistance level of 1.3543, from which the price rebounded, then they earned around 100 points. In any case, we have repeatedly said that a small profit is better than a large loss. Novice traders must learn how to make a little money and only then should they try to master more serious trading methods, more complex systems. At the moment, an upward trend has already appeared, as well as a new upward trend line. Therefore, it is now recommended to consider buy orders. As always, you need to wait for the MACD indicator to discharge and create a new buy signal.
The pound began to rise again on Wednesday, since the market received information from journalists that the EU and the UK have both agreed on a trade deal. This is a classic situation that shows how the markets can react to this or that news, even if it is not official and unconfirmed. It's just that everyone is waiting for a trade deal to be agreed upon (thanks to which the pound has been growing for several consecutive months), so any relatively truthful information is interpreted by traders as an official statement. In general, the pound has risen in price out of the blue again and in general continues to trade near 2.5-year highs. However, if in the coming days (it is unclear how it will be if tomorrow, the day after tomorrow are holidays, and on 26, 27 - weekends) we do not receive confirmation from Michel Barnier or David Frost, then the pound may fall, paring today's growth.
No macroeconomic releases scheduled for Thursday, December 24, both in the UK and US. However, the markets will continue to wait for official information regarding the Brexit talks. So if we manage to receive information, then the pound/dollar pair may be very volatile. On the other hand, no one knows when the official information will come and what it will be. It is quite possible that in reality Barnier and Frost (the heads of the EU and British negotiating groups) did not come to any agreement. Thus, buyers of the pound will be seriously disappointed.
Possible scenarios for December 24:
1) Long positions are relevant again, since the upward trend is present. So now novice traders can close longs that should have been opened today and wait for a new buy signal. It can be from the MACD indicator, if it manages to discharge to the zero mark, or from the trend line, from which a rebound can occur as part of the correction. In both cases, you are advised to buy the pair again while aiming for 1.3543 and 1.3617.
2) Selling is now impractical as the downward trend has been canceled. So now you need to wait for the quotes to settle below the upward trend line and only after that should you sell the pair while aiming for support levels of 1.3377 and 1.3285.
On the chart:
Support and Resistance Levels are the Levels that serve as targets when buying or selling the pair. You can place Take Profit near these levels.
Red lines are the channels or trend lines that display the current trend and show in which direction it is better to trade now.
Up/down arrows show where you should sell or buy after reaching or breaking through particular levels.
The MACD indicator consists of a histogram and a signal line. When they cross, this is a signal to enter the market. It is recommended to use this indicator in combination with trend lines (channels and trend lines).
Important announcements and economic reports that you can always find in the news calendar can seriously influence the trajectory of a currency pair. Therefore, at the time of their release, we recommended trading as carefully as possible or exit the market in order to avoid a sharp price reversal.
Beginners on Forex should remember that not every single trade has to be profitable. The development of a clear strategy and money management are the key to success in trading over a long period of time.
The material has been provided by InstaForex Company -
www.instaforex.com