Hourly chart of the GBP/USD pair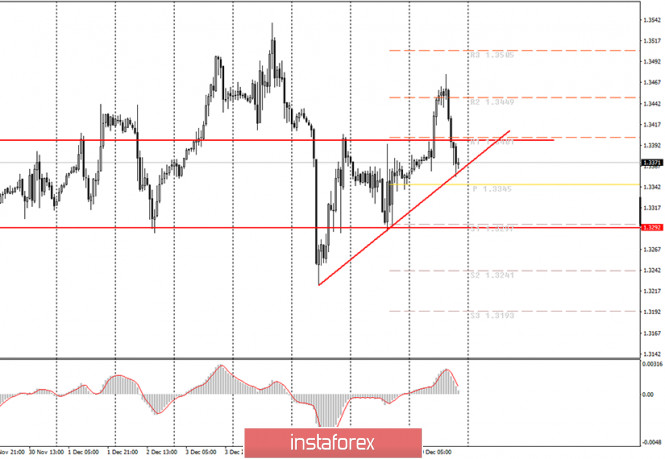 The GBP/USD pair made a new upward spurt on Wednesday, but then it ended up with a new round of downward movement. In general, the pound/dollar pair is still moving erratically (price movement with frequent reversals and without a definite trend). However, there is a silver lining. Thanks to this week's movements, a new upward trend line has appeared, which supports bull traders. Despite the fact that this trend is short-term, the price is currently near the trend line. Therefore, a rebound from this line and being able to overcome it can be used as a buy or sell signal. We advise traders to monitor this signal in the coming hours. In general, the pair keeps moving erratically, which is extremely difficult to predict. In principle, this is visible in any of the pound/dollar pair's charts. The bears still lack the strength to start a new downward trend, although the fundamental background speaks in favor of the pound's fall.
Everything still revolves around Brexit and negotiations on a trade deal between the UK and the EU when it comes to the British pound. And although we have not received new information in recent days or even weeks, the markets continue to closely monitor this topic and are terribly nervous. It is clear why. After all, the future of the British economy depends on the trade deal. Although the question in this case is: will the British economy contract strongly or not very much in 2021? One way or another, but traders do not want to take into account the fact that the chances of reaching a deal are minimal. Michel Barnier announced this publicly yesterday, and we tend to believe his opinion. Today Ursula von der Leyen (head of the European Commission) and Boris Johnson (Prime Minister of Great Britain) will hold personal talks in Brussels to try to break the deadlock. But to be honest, the chances of a positive outcome are very small. Thus, we continue to expect a new downward trend for the pound.
The UK will release October GDP and Industrial Production reports on Thursday. The outlook is relatively neutral and we believe that traders will not pay enough attention to these reports. They are more likely to react to the US inflation report. The consumer price index has recently begun to slow down and may reach only 1.1% y/y in November. However, inflation excluding food and energy products may grow and reach 1.8% y/y. Therefore, we believe that if the overall slowdown on the two indicators can be avoided, then the US dollar will not be under pressure because of this report. And, of course, we continue to await the results of the negotiations in Brussels.
Possible scenarios for December 10:
1) A new short-term upward trend with a trendline has appeared. Therefore, if a rebound occurs from this line, we advise you to open buy orders while aiming for 1.3449 and 1.3505. However, in general, the pair is still moving erratically, so the upward movement can be very short.
2) Selling, from our point of view, is not advisable right now, since an upward trend line is present. If the pair's quotes settle below it, then we recommend opening short positions while aiming for the support levels of 1.3297 and 1.3241.
On the chart:
Support and Resistance Levels are the Levels that serve as targets when buying or selling the pair. You can place Take Profit near these levels.
Red lines are the channels or trend lines that display the current trend and show in which direction it is better to trade now.
Up/down arrows show where you should sell or buy after reaching or breaking through particular levels.
The MACD indicator consists of a histogram and a signal line. When they cross, this is a signal to enter the market. It is recommended to use this indicator in combination with trend lines (channels and trend lines).
Important announcements and economic reports that you can always find in the news calendar can seriously influence the trajectory of a currency pair. Therefore, at the time of their release, we recommended trading as carefully as possible or exit the market in order to avoid a sharp price reversal.
Beginners on Forex should remember that not every single trade has to be profitable. The development of a clear strategy and money management are the key to success in trading over a long period of time.
The material has been provided by InstaForex Company -
www.instaforex.com