Hourly chart of the GBP/USD pair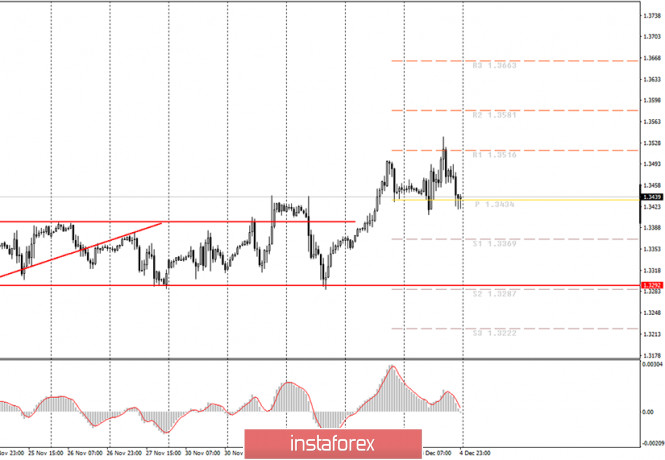 We observed absolutely illogical movements from the GBP/USD pair on Friday, which continue to defy any analysis. After the pair was trading in a horizontal channel for more than a week, the quotes seemed to have overcome its upper border, but the upward movement did not last long. If you look at the higher charts, you can see that, in general, the upward trend has been ongoing for 2.5 months. The pair has just recently reached the September 1 high and now it is already difficult for buyers to move the pair up. And if you took note of the fundamental background from the UK, which has not supported the pound for a long time, it becomes completely unclear how the pound got to these heights. However, there are other things that are more important and interesting for novice traders. At this time, the pair has no technical formations, trend lines, triangles, channels. And the upward trend is by no means obvious. In such a situation, we recommend not trading at all, since it is not even clear which direction the majority of traders are looking.
Everything still revolves around Brexit and negotiations on a trade deal between the UK and the EU when it comes to the British pound. Every day, traders receive information that confirms that the parties are still far from an agreement. Friday, Saturday and Sunday were no exception. All that has become known these days is that London and Brussels have resumed negotiations and will try to negotiate a trade deal. Recall that the last announced deadline for these negotiations was November 15. After that, it is pointless to continue negotiations, because the parties will not have time until January 1. As you can see, this does not hinder the negotiation process, since it is better not to be in time and be late than not to be in time and not to conclude.
No major events scheduled for Monday in the UK. However, what are important developments for the British pound? We still recommend waiting for information on the talks' progress, but we told you the same both a week ago and two. However, novice traders can appreciate the beauty of the pair's recent movements and conclude whether they want to trade in such conditions? We believe that these movements are directly related to the uncertainty that the dialogue between London and Brussels is fraught with. Great Britain is now in a pan or lost position. If there is no deal, then the British economy will face new shocks in 2021.
Possible scenarios for December 7:
1) Traders managed to get the pair to settle above the horizontal channel of 1.3292-1.3397, but there is no upward trend now, like any trend lines and channels. Thus, formally, you can now consider an upward trend on the chart, but in fact there is none. We advise you to wait a few days for a more convenient and beautiful technical picture.
2) Sell positions, from our point of view, are also not convenient right now. There is neither a downward trend nor a signal about the end of the upward trend, and market participants are not particularly interested in the fundamental background right now. Everyone believes in a deal between the EU and Britain, and on this basis they brought the British pound quotes to two-year highs. But in fact, there is still no deal...
On the chart:
Support and Resistance Levels are the Levels that serve as targets when buying or selling the pair. You can place Take Profit near these levels.
Red lines are the channels or trend lines that display the current trend and show in which direction it is better to trade now.
Up/down arrows show where you should sell or buy after reaching or breaking through particular levels.
The MACD indicator consists of a histogram and a signal line. When they cross, this is a signal to enter the market. It is recommended to use this indicator in combination with trend lines (channels and trend lines).
Important announcements and economic reports that you can always find in the news calendar can seriously influence the trajectory of a currency pair. Therefore, at the time of their release, we recommended trading as carefully as possible or exit the market in order to avoid a sharp price reversal.
Beginners on Forex should remember that not every single trade has to be profitable. The development of a clear strategy and money management are the key to success in trading over a long period of time.
The material has been provided by InstaForex Company -
www.instaforex.com