Hourly chart of the GBP/USD pair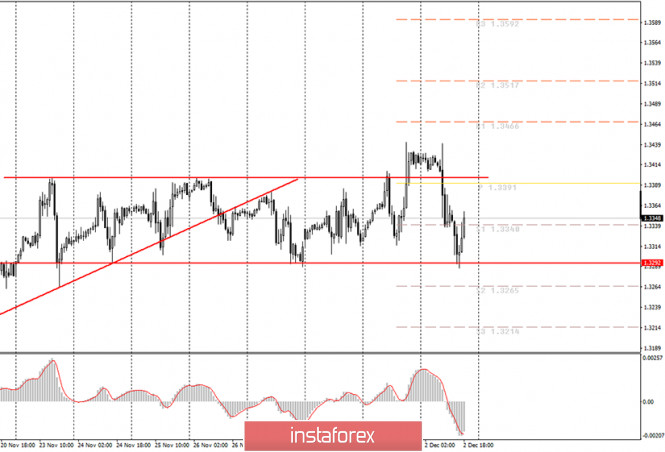 The GBP/USD pair's movement on Wednesday was even more upbeat and unpredictable than the EUR/USD pair. If the euro is now trading in an unconventional and illogical way, but in a trend that is visible, then the pound is just trading randomly, in different directions, without any logic at all. The chart clearly shows the horizontal channel, and the price reached the limits at least 5-6 times. Thus, it was reasonable to assume that when the quotes settled above or below this channel, it would be a strong signal to continue moving in that direction. However, today has shown how bad everything is now for novice traders on the pound/dollar pair. Having gone above the channel by literally 40 points, the price fell and returned to the lower border of this channel at 1.3292. Moreover, it rebounded from it and now we have the right to expect a new round of upward movement to the upper border of the channel. Today novice traders could open long deals, but they should have been closed almost immediately, because the MACD indicator turned to the downside very quickly. Anyway, long positions had to be opened after increasing by 95 points, that is, the upward movement might come to an end.
Everything still revolves around Brexit and negotiations on a trade deal between the UK and the EU when it comes to the British pound. Every day, traders receive information that confirms that the parties are still far from an agreement. Back in September, you could say, "It's alright." But this is December, which means that the transition period is less than a month away, and if there is no deal, then Britain will have economic problems. However, they will also start with the deal. Last week, traders clearly stopped mindlessly buying the pound and took a break. However, the pound did not fall in price during this pause, but was traded mainly sideways. This factor (horizontal movement) is now the main one for the pound/dollar pair and for its traders.
The UK is set to release its Services PMI tomorrow, which is likely to fall below 50.0. Therefore, it is unlikely to support the pound. However, the pound now, like the euro, does not need support from the fundamental or macroeconomic background. The pound may continue to trade sideways, and novice traders may just have to wait for these inconvenient movements to end. At any time, the market might just receive information on the results of these negotiations, so novice traders need to be ready for this. Volatility surges and strong movements are possible. Both London and Brussels agree that the talks should end in the coming days.
Possible scenarios for December 3:
1) Traders have now returned the pair to the horizontal channel of 1.3292-1.3397. So now long deals are irrelevant again. It is necessary to wait for a new upward trend to appear and the 1.3397 level to be overcome in order to count on growth and you can aim for 1.3466 and 1.3517. Although, as today's trading showed, even overcoming one of the channel limits does not guarantee that a new trend will begin.
2) Short deals, from our point of view, are more convenient now, and for a number of reasons. However, since the price is inside a horizontal channel, in order to open short positions, novice traders are advised to wait until the price settles below its lower border of 1.3292 and only after that should they consider the possibility of opening short positions with targets at support levels of 1.3265 and 1.3214.
On the chart:
Support and Resistance Levels are the Levels that serve as targets when buying or selling the pair. You can place Take Profit near these levels.
Red lines are the channels or trend lines that display the current trend and show in which direction it is better to trade now.
Up/down arrows show where you should sell or buy after reaching or breaking through particular levels.
The MACD indicator consists of a histogram and a signal line. When they cross, this is a signal to enter the market. It is recommended to use this indicator in combination with trend lines (channels and trend lines).
Important announcements and economic reports that you can always find in the news calendar can seriously influence the trajectory of a currency pair. Therefore, at the time of their release, we recommended trading as carefully as possible or exit the market in order to avoid a sharp price reversal.
Beginners on Forex should remember that not every single trade has to be profitable. The development of a clear strategy and money management are the key to success in trading over a long period of time.
The material has been provided by InstaForex Company -
www.instaforex.com