The European currency continued its growth in the afternoon on Wednesday, after a weak report on the growth of the US economy, as well as a decrease in political tension in Italy.
As it became known yesterday, the Italian "Five-Star Movement" refused to put Eurosceptic Paolo Savona as Italy's Minister of Economy. This slightly smoothes the situation in Italy's political crisis, as a number of investors are really concerned that the path of European integration, which Germany and France are promoting, can be substantially changed.
Data on the growth of the US economy in early 2018 had a negative impact on the US dollar rate, as the economy of the show is more modest growth than previously thought.
According to the report of the US Department of Commerce, US GDP for the first quarter of 2018 showed an increase of 2.2% per annum against the previous estimate of 2.3% per annum. Economists had expected that economic growth rates would remain unchanged.
Indicators of inventories of companies had a negative effect on GDP, which led to its revision.
Compared with the same period last year, US GDP growth in the 1st quarter was 2.8%.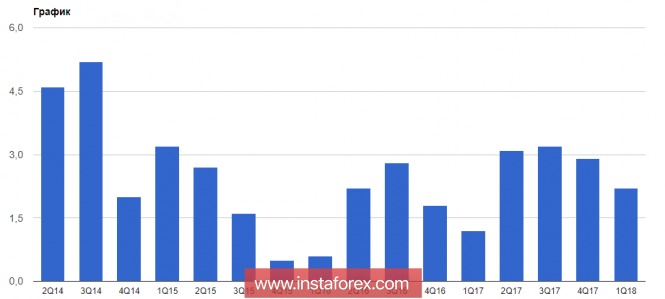 The report of the beige book by the Fed also did not give the US dollar support. According to the data, economic activity in the US grew at a moderate pace in most regions in late April and early May this year. Employment also grew at a moderate pace. The beige book also focused on the fact that in most regions there was a moderate increase in wages.
It should be noted that today there is a report on income and expenditure of households, which can have a significant impact on the US dollar.
As for the current technical picture of the EURUSD pair, buyers are gradually being selected for large resistance levels around 1.1705 and 1.1750, above which it will be more difficult to buy risk assets, as new large sellers will return to the market. To expect a downward movement in the euro will be possible with the publication of weak data on inflation in the euro area, which could seriously affect the plans of the European Central Bank, which is experiencing the recent problems associated with economic growth. The return to support level 1.1640 will seriously damage the orders of euro buyers and lead to the fall of the trading instrument in the area of 1.1590 and 1.1540.
The material has been provided by InstaForex Company -
www.instaforex.com